Technology
Azure Communication Services, .NET Core, Azure SQL, Sendgrid
Customer
The customer is a Vancouver-based not-for-profit Catholic health system offering care to communities in Washington, Oregon, and Alaska. It has around 16,000 caregivers, a medical group practice with more than 1,100 providers, and ten medical centers serving communities.
Business Challenge
The customer had its battles to modernize their IT ecosystem with little success. The existing business processes struggled to support their communication channels across internal teams and customers.
They used various SMTP servers and classic Exchange service providers to communicate with internal teams and customers, which does not have end-to-end tracking functionality or reporting. Once Exchange sends messages to the AT&T stream, they are unable to track the success / failure of the message. Hence, the support and maintenance staff get significant tickets to support these operations, impacting their productivity.
The end users also are forced to use alternate methods of communication due to the limitations in the current infrastructure, affecting business efficiency.
Key challenges
Messages can only be sent to a single user at a time
Attachments are not supported in emails
Inability to track messages once sent
Lack of notifications in terms of the status of the message delivery
WinWire Solution
WinWire leveraged Azure Communication Services based solution for the digital collaboration and communication needs of the customer.
Built a cloud-based solution and reduced vulnerability and increased maintainability of the infrastructure
The architecture is simple compared to the very complex solution used by the customer earlier.
Fewer components are used for accomplishing the needs
We utilized a solution-based development approach by leveraging service-oriented architecture & complex event processing. The solution offers a lot of modern features that will help increase the staff's productivity.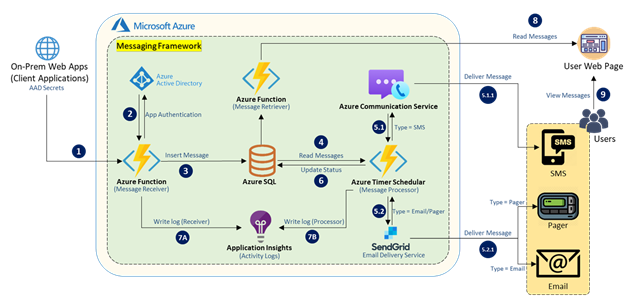 Business Value
Re-imagined the communication processes to provide real-time visibility into operations, improving customer experience
Improved staff productivity and business efficiency
Provided responsive and consistent user experience