Healthcare organizations have become a significant target of cyber-attacks in the recent past. Data shows that these attacks are growing annually. Besides that, they are becoming more complex than ever. According to the Protenus Breach Barometer, the numbers of data breaches have skyrocketed with potentially more than 25 million patient records breached in 2019 and leads to considerable losses to the healthcare organizations. See the below image to have a glimpse at the average economic cost of cyber-attacks on healthcare organizations.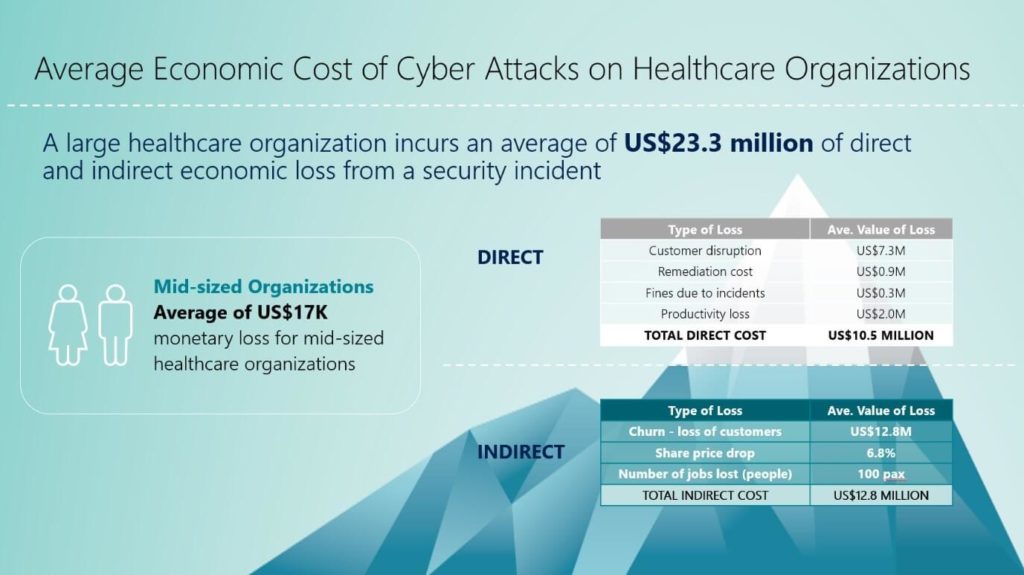 Source: Microsoft
Healthcare organizations in this era cannot ignore the cybersecurity measures, and tomorrow may be too late to do what you should have already done today. A security breach not just hits your pocket but also dents your reputation. Healthcare organizations are looking to secure their healthcare systems builds trust among their patients. The famous adage 'Prevention is better than cure,' has greater relevance in the field of Cybersecurity, and Cybersecurity Ventures indeed predicts that the healthcare industry will spend $65 billion cumulatively over five years on Cybersecurity.
Here is what you need to know about Healthcare cybersecurity and why it is so important!
Cybersecurity Can Save Millions for the Healthcare Industry
When you compare today's healthcare system's efficiency to that which we experienced 20 years ago, we see that technology has made life simpler and is continuing to innovate to reduce manual interventions of professionals.
This is great for the healthcare professionals who do still work in the industry because they can now take care of more patients in 8 hours than what they used to take care of in a 12-hours. This eventually is helping organizations to create a 'smarter workforce'and enabling them to upskill their workers when technology does the rest. It is also easier for healthcare professionals to share information with their colleagues. Documentation is now easier than ever before as the data can be stored within networks and a within a short period.
All of this is possible with the adoption of technology by healthcare organizations. However, with more and more adoption, there is a potential risk of security and adopting healthy cyber-security measures can help organizations allow them to save millions.
Leaked Patient Information Can Cost a Lot
Today's healthcare industry is going through a significant change due to the increasing demand for affordable and quality care delivery. Newer disruptive technologies help to address the dynamic market needs but also imposes a high risk of getting critical patient information leaked. As more and more companies across the healthcare ecosystem increase their investments in digital technology and moving to a digital-first approach, the risk of cyber breaches continues to surge.
Adoption of cybersecurity can benefit organizations by preventing their patient information to be leaked. Of course, the healthcare industry will also be helped to save a lot of money by being more efficient. Efficiency will prevent cyber-attacks from occurring and enable organizations to protect themselves.
Finding a Path Towards a Secure Healthcare
Cybercrime damages are set to cost the world $6 trillion annually by 2021 according to cybersecurity ventures, so it's evident on how important it's for organizations to Protect, Detect and Respond swiftly to prevent losses.
Protect – Do not just wait for an attack to happen, assume it will happen, and you need to act proactively to prevent it. By deploying robust cybersecurity solutions across your digital estate can have the same level of protection and compliance. Through the Microsoft cloud services, healthcare organizations can implement a layered, in-depth cyber-defense strategy across data and networks while protecting applications and infrastructure using built-in security services. For instance, during this time of COVID-19 pandemic, as organizations have moved to a remote workforce, ransomware operators have found a practical target. See how Microsoft is helping healthcare organizations protect themselves from ransomware.
Detect: Healthcare breaches are mostly serious because personal data can significantly differentiate life and death in the healthcare industry. The industry has started leveraging insights into new and daily threats. Azure provides the AI and analytics capabilities needed to digitally transform healthcare claims fraud, waste, and abuse processes into data-driven proactive solutions that leverage the expansive and scalable power of the cloud to minimize the costs of fraudulence towards claims.
Microsoft is enabling organizations to build a stronger security posture against human-operated breaches. See Microsoft's comprehensive report that offered mitigation steps for making networks resistant against threats and cyberattacks in general.
Respond: While network and endpoint technologies constitute a significant element for healthcare organizations' IT security, however, they are increasingly ineffective at keeping external attacks away. Microsoft's security and cloud technologies have built-in intelligence to report malicious data threats as they occur.This provides healthcare systems with a record that helps them diagnose attacks through advanced threat techniques and applies intelligence across all their digital assets.
After recently notifying healthcare organizations about the vulnerability of the VPN appliances in their infrastructure during the COVID-19 pandemic, Microsoft is offering AccountGuard threat notification service complimentary for healthcare and worldwide human rights and humanitarian organizations enabling them to respond quickly to a security threat.
Seeing the healthcare environment's critical nature means healthcare providers require immediate access to healthcare data across devices to provide better care. However, in parallel, cybersecurity threat looms large on the way in the healthcare industry as the industry continues to evolve at breakneck speed. They must adopt robust cybersecurity solutions to prevent losses and reputation.
At WinWire, a Microsoft Managed Partner enables healthcare organizations with Information Management, Security and Compliance, and Microsoft Teams deployment. Connect with us to know more.