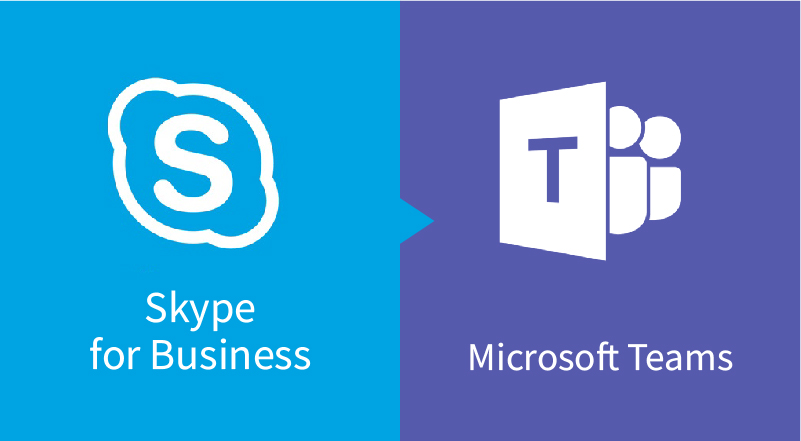 Overview of Skype for Business
Skype for Business offers all the usual features for enterprises such as IM, voice, video, and screen sharing across devices and geographies. With over 30 million users worldwide, it offers what's required for an effective enterprise business communication. The new Skype for Business 2019 possess exciting features such as Cloud Voicemail and Cloud Auto Attendant. It's designed for easy management with Cloud PBX which helps to store and transfer data using the internet instead of owning a hardware. Its cloud enablement helps one to store video and audio conversations for the future.
Despite all the benefits, Skype for Business does have certain limitations. For instance, in large meetings where there are more than 25 participants, there have been incidents of video not recording and files not moving. Also, in larger conference rooms, the speakers' voice is masked by noises and have synchronization issues.
Overview of Microsoft Teams
Microsoft Teams was probably launched to take on Slack, which has been the most popular collaboration tool until recently. After a bid to buy is for $8 billion, Microsoft went ahead and made its collaboration tool which has the muscle power of the entire Microsoft offerings behind it. Microsoft Teams is referred to as a `digital translation of open office space.' Its entry into the group messaging market has already witnessed an upsurge and Microsoft confirms that as in September 2018, it already has some 329,000 enterprises using Microsoft Teams. Not unlike Skype, Microsoft Teams enables text communications, remotely, supports group chats and private messaging.
One can leap from instant messaging to video call by the push of a button. Larry Cannell, Gartner's research director, describes Microsoft Teams as "a simple conversation method that most people will be able to understand," However, as mentioned earlier, it is integrated with the Microsoft portfolio and therefore helps to collaborate and share content.
Why Upgrade Skype for Business to Microsoft Teams?
In December 2017, in his keynote at `The future of Intelligent Communications – a Combination of Skype for Business and Microsoft Teams,' Microsoft CEO Satya Nadella highlighted a shift in technology paradigms from technology-first, cloud-first technology to intelligent cloud and intelligent communications that empower employees in the modern workplace.
Upgrading from Skype for Business to Microsoft Teams gives enterprises a single smart unified communications platform where employees have access to a gamut of services such as telephone, video conferencing and messaging to name a few. Microsoft Teams offers a single location for the entire supply chain, i.e., factory to store, providing collaboration and sharing, all aimed to maximize end-user experience.
It could fundamentally alter the way information users work within an organization. Its convergence with Skype for Business and its potential to use many of the Office 365 features, Teams will help solve multiple business problems for and between individuals in real-time.
Business Benefits of Microsoft Teams
Serves as a converging hub for collaboration and promises a better ROI
Microsoft Teams will front-end the Microsoft stable with its modern user interface capabilities. It will enhance collaboration and productivity with OneNote, OneDrive, Excel, Word, Persistent Chat, telephony, meetings and conferences, planner and SharePoint sites
Voice features will be available on Microsoft Teams.
It will have the same HTML5 architecture across all client devices
Enhanced network and voice capability to take on the shortcomings of Skype for Business
Teams are customizable and can be integrated with third-party tools.
Challenges in upgrading to Microsoft Teams
As with any new technologies, there will be challenges in terms of user acceptance, potential technical and firewall issues depending on configurations and transitioning Teams into the existing Office 365 ecosystem.
Some significant impacts could be related to:
Disruption to existing collaboration models and technical hiccups during implementation
Impact on functionalities related to voice calling, telephony and chat during the migration period
Technical challenges associated with existing architecture when shifting from on-premise to the cloud
Adjusting to Cloud PSTN connectivity
The 3-Step Process to Upgrade from Skype for Business to Microsoft Teams
The Skype for Business to Microsoft Teams upgrade framework begins by bringing together the right stakeholders and defining your upgrade plan (e.g., scope, goals, and timeline). With a plan in place, confirm your technical environment and your end-users are ready for Teams. Then, implement your upgrade in stages, moving from a pilot to an organization-wide upgrade when available. Once your organization is on Teams, establish an operational plan that monitors for quality and accelerates user adoption.

Pre-Upgrade
a. Plan: Create your upgrade plan to help ensure your organization is set up for long-term success
i. Define your stakeholders
ii. Define your project vision and scope
iii. Define your project goals
iv. Identify risks and mitigation plans
v. Define your timeline
vi. Define the appropriate Skype for Business and Teams upgrade and coexistence strategy
b. Prepare: Evaluate your organization's readiness for Teams
i. Assess your environment and complete Teams technical on-boarding
ii. Optimize network for Teams, particularly for real-time media scenarios
iii. Assess organizational change readiness and define teamwork scenarios
iv. Prepare a user readiness plan to define how you will communicate, train, and support users
v. Announce the pending launch of Microsoft Teams
vi. Prepare your IT staff for Teams
c. Pilot: Run a pilot to confirm that your organization is ready and inform your optimal journey to Teams
i. Outline pilot logistics
ii. Select your pilot participants and test scenarios
iii. Design your test plan and feedback survey
iv. Create your pilot communications plan
v. Conduct your pilot
vi. Assess learning and evaluate your go-forward plan
d. Deploy: Run Teams in coexistence with Skype for Business
i. Announce the official launch of Teams
ii. Enable the appropriate coexistence mode for your users
iii. Stay informed about the Teams road map
iv. Send additional communications and engage Teams champions to drive excitement and adoption of Teams
2. Upgrade
a. Confirm that you've completed the pre-upgrade activities described above
b. Initiate communications to users in your first upgrade group
c. Enable the coexistence mode to Teams, only for users in your first upgrade group
d. Repeat the above upgrade activities for the remaining upgrade groups on a rolling cycle
e. Send post-upgrade feedback surveys to all users
3. Post-Upgrade
a. Assess your initial upgrade success
b. Implement a mitigation plan for any goals that aren't on track
c. Monitor for network health and quality
d. Drive user momentum and adoption
e. Prepare for new functionality
How WinWire helped a leading healthcare organization upgrade Skype for Business to Microsoft Teams to deliver intelligent communication and collaboration experience
One of the world's leading providers of genomic-based diagnostic tests that help optimize cancer care had multiple means of collaboration and communication. With Microsoft moving towards phasing out Skype for Business and consolidating their collaboration and communication tools in Microsoft Teams, the organization wanted to develop a road-map for consolidating their collaboration and communication in Microsoft Teams. WinWire performed an assessment, followed by workshops with stakeholders and team leads and developed a six-month road-map for phasing out on-premises Skype for Business and moving to Microsoft Teams. The upgrade resulted in the company boasting a single desktop and mobile platform for collaboration and communication. The ability to seamlessly collaborate, with enhanced productivity has resulted in improved operational excellence.
Learn how WinWire Can Help You
By connecting people, data and systems into a single system of intelligence, we help you share knowledge and ideas across the enterprise. We have offered services, solutions, and tools to large and mid-sized enterprises, enabling them to empower employees and engage customers across all functions. As a proud Gold partner for Microsoft Cloud Productivity, we simplify 'collaboration' for your organization.
Is your organization planning to upgrade Skype for Business to Microsoft Teams? Contact us for a consultation today.