There is a continuous deluge of data pouring in from websites, social media platforms, and connected devices. The proliferation of data is crippling for organizations to manage, and most of the time, the right data, at the right time, is not available. It is, in fact an understatement to say that organizations today are challenged by a complex data landscape with data residing in multiple places and being accessed and utilized by various departments. In the absence of pertinent data, analysts cannot analyze the data and derive the real value from the same.
Business demands from enterprise data
a. Growing internal expectations of data which is agile and helps speed up the response time to customers.
b. Regulatory compliance for data in a frequently changing regulatory scenario. Data needs to be compliant with government, industry regulations.
c. Data accessibility, where users have on-the-move access to real-time data and analytics.
Challenges with data management
Data warehouses were the universal solution to address all challenges associated with data management. However, traditional data warehouses have brought about their own problems. In typical enterprise set up, one project could be using a data mart, another a data warehouse and several more data warehouses for other projects leading to data silos. McKinsey says that executives facing data issues must expand their data-management infrastructures massively and quickly. To manage data silos efficiently in the face of the continuous proliferation of data puts a heavy burden on IT to invest in proprietary hardware, specialized tools, and skills. Capacity planning when procuring hardware can also be a challenge and over planning can tax existing budgets while under planning will result in wastage and underutilization of expensive hardware
Organizational practices to maximize data management
To overcome these challenges, enterprises are changing their data management strategy. Shifting from traditional data warehouses, they are looking at cloud-based data warehousing. This is because cloud data warehouse gives enterprises unlimited capacity and scalability. It's far more cost-effective than traditional data warehouses and helps in scalability and uptime. Deloitte reiterates the importance of flexible BI and data warehousing capabilities, which leads to tangible benefits. According to Deloitte, the phenomenon is accelerating, thanks mainly to the potential to save large sums of money, analyze even bigger data sets, and eliminate the hassle of managing on-premise clusters. While organizations are known to find at least 20 percent savings in comparison to on-premise data warehouses, many organizations have seen nearly an 80 percent savings.
The surge in requirement for cloud data warehouse has seen some large players entering the arena. Forrester's report on cloud data warehouse released recently has identified 14 vendors in the cloud data warehouse (CDW) field. Snowflake, which closed a $450 million venture funding round recently, has grown quickly, thanks to the ease of use, high performance, and low cost of its SQL-based offering.
Data management challenges
Snowflake's ability to counter the challenges
Lack of turnaround times to analyze new data sources
Difficulty ensuring optimal load and query performance
Complex structured and unstructured data
Ensuring security and encryptionDefining disaster recovery.
Scalability, performance & concurrency
Store both structured and semi-structured data together
Cost effective
Data protection and backups, DR & HA
Security & encryption
Maintenance
Amplify AI with Snowflake
The integration between cloud services, data sets when put in production in artificial intelligence (AI) models using Snowflake brings great results for organizations. This integration helps them ramp up analytics, predictions, and provide an efficient enterprise platform. It also enables data engineers to read and analyze data and prepares them for data augmentation, sentiment analysis, and further refine the existing data sets. With close integrations to machine learning-driven Spark, R, Qubole, and Python, Snowflake is truly the keystone in every developer's dream stack.
When to Use Snowflake?
There are several common use cases in which customers are using Snowflake:
Consolidate data marts and extracts to reduce cost, complexity, and cumbersome data management while giving analytics tools and users faster, direct access to data.
Modernize their data warehouse by replacing legacy data warehouse appliances and software with a solution that is faster, simpler, and more scalable – at a dramatically lower cost.
Replace NoSQL systems and data lakes (built on technologies such as Hadoop) with a solution that not only lets them easily store diverse data at low cost for exploration and experimentation but also supports high-performance reporting and analytics in a real data warehouse environment.
Benefits for customers
Snowflake delivers the performance, concurrency, and simplicity needed to store and analyze all an organization's data in one location. Snowflake's technology combines thepower of data warehousing, the flexibility of big data platforms and the elasticity of the cloudat a fraction of the cost of traditional solutions. Elasticity on demand is one of the most valuable benefits. Processing clusters can be added with no change to the database design and, if processing demands decrease, the clusters can be decommissioned to save cost. The data in one Snowflake warehouse can be used in multiple instances (assuming the appropriate security permissions have been granted) and all processing clusters can be scaled independently.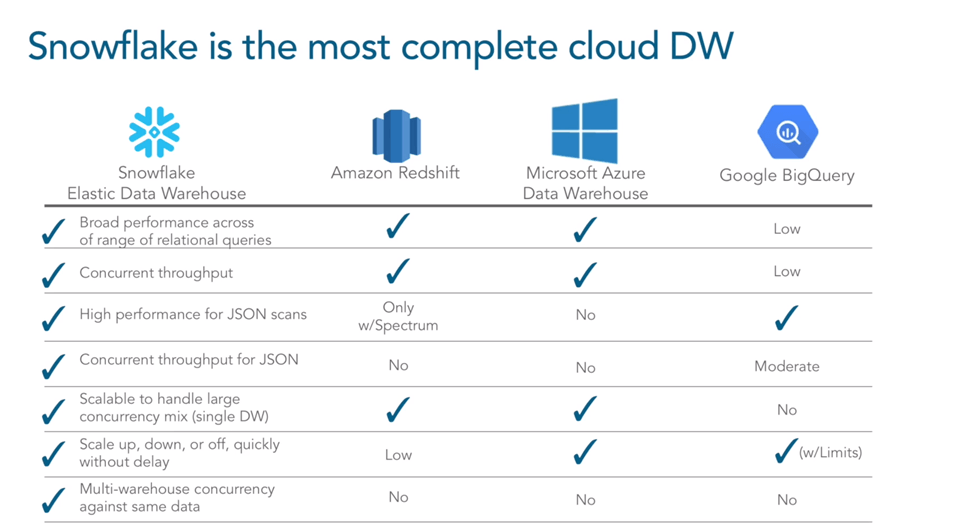 Source –https://interworks.com/blog/sparker/2018/03/08/introducing-snowflake-cloud-based-data-warehousing/
Monetize your data assets with Snowflake and WinWire
WinWire, as a referral partner for Snowflake, delivers a holistic solution that automates the design, implementation, and updates to a data warehouse built on the cloud. Through this alliance, WinWire is leveraging its cloud data warehouse platform to analyze real-time information, make quality decisions real-time, and generate meaningful outcomes for our customers.
Recently, we supported one of the largest and diversified construction company build a scalable risk modeling solution leveraging Azure Machine Learning and Power BI, that helped them learn from their historical data and enabled them to mitigate risk in their construction projects. Read more about the Risk Modeling Solution using Predictive Analytics.
Contact us to learn how we are helping our customers achieve true data warehouse modernization using Snowflake.