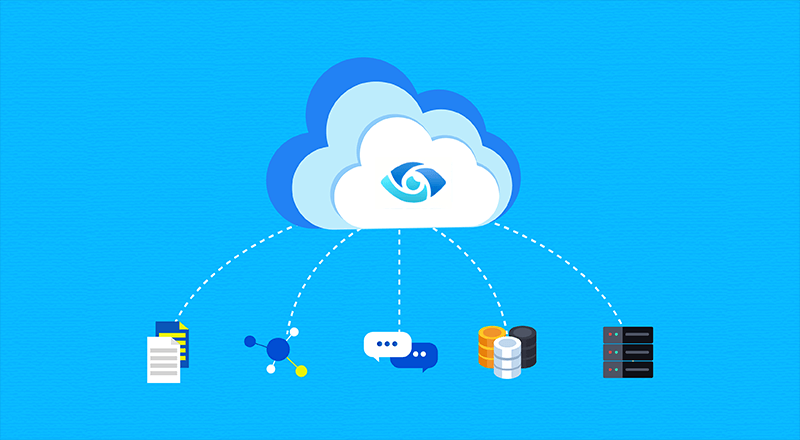 In the modern digital world, the data keeps growing to enormous proportions. It, thus, needs businesses to find, collect, and analyze the data to glean insights for smarter business decision making. Hence, the way businesses manage, represent, or share the data is also becoming increasingly important.
Data management teams within growing organizations have long grappled with supporting data governance functions. In conventional data models, you would commonly observe the absence of proper documentation, vague data ownership hierarchy, unstructured outlook, etc.
However, the explosion of newer data sources has opened immense possibilities, which are not aligned with conventional models. These legacy data models have little scope to deal with data that comes from super macro levels. This is how data governance challenges continue to change with the Internet of Things (IoT) revolution.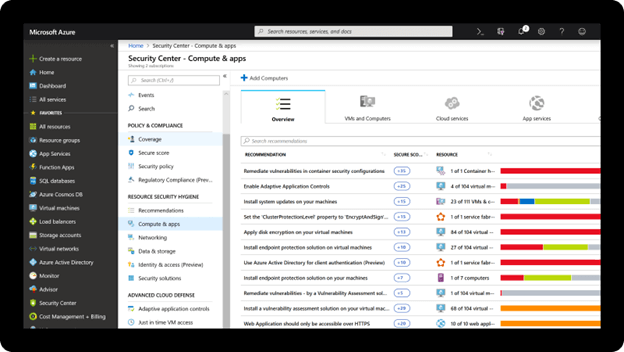 What is Azure Purview?
Microsoft has recently launched a new, unified data governance service – Azure Purview – to bridge all the gaps underlying conventional and existing discovery and data governance models under a software-as-a-service (SaaS) setup.
This new database governance toolkit enables businesses to reimagine data governance and manage their on-premises data with automated discovery and data governance features.
Rohan Kumar, Microsoft's corporate VP for Azure Data said, "While many companies may be very excited about getting started with data-heavy technologies like predictive analytics, those companies' data and privacy-focused executives are very concerned to make sure that the way the data is used is compliant or that the company has received the right permissions to use its customers' data, for example".
Microsoft CEO Satya Nadella too expressing his views on this launch said that it's important to not only trust a vendor's technology capability, but also their business model alignment with its customers. "No customer wants to be dependent on a provider that sells them technology on one end and competes with them on the other. It has never been more important to get this equation right," he further added.
Now let's look at Azure Purview features and capabilities on offer.
Azure Purview Features
Azure Purview consists of three main components: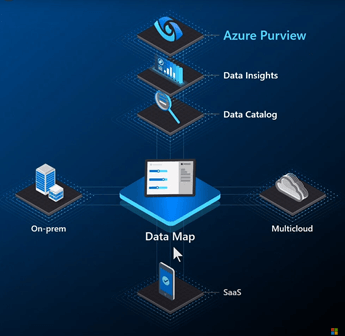 Azure Purview Data Map for Effective Data Usage:To discover, classify, and map data across the length and breadth of the organization. Azure Purview can automatically map all sensitive data of the organization across multi-cloud, on-premises, and multi-vendor locations – giving you incredible flexibility to coordinate with external vendors. According to Microsoft, "it provides a bird's-eye view of a company's data landscape," enabling efficient data governance and use.
Azure Purview Data Catalog for Effortless Discovery of Trusted Data:It lets users perform a simple web-based search to find relevant data. With the interactive data lineage visualization tools at disposal, it's easier to confirm if a specific data of interest is from a trusted source or not and also estimate the origins of a particular data thus driving business intelligence, and machine learning (ML) initiatives. Automating and managing metadata from hybrid sources further helps in categorizing data with custom classifiers and Microsoft Information Protection sensitivity labels, with SQL Server, Azure, Microsoft 365, and Power BI.
Azure Purview Data governance:Azure Purview provides a vantage point view of an organization's data landscape that helps in data usage governance. This provides crucial understanding such as the data distribution across environments, its movement, and storage of sensitive data.
Benefits
Maximizes the Business Value of SQL Server Data Azure Purview has been crafted keeps keeping the applicability and popularity of SQL Server across the industrial landscape. It, thus, enables automated scanning and data classification using the Auto Data Map feature. It helps in identifying the degree of fragmentation that indicates the SQL server's responsiveness to locate the data requested by the user.
Gains Insight into Sensitive Data across Your Organization Azure Purview helps determine all the sensitive data across your company, track data heredity, and create a business reference glossary with help of sensitivity labels. Applying sensitivity labels allows you to mark the sensitivity of certain data in your organization.
Pricing
Azure Purview Data Catalog enables self-serve data discovery to accelerate your BI, Analytics, AI, and Machine Learning. Estimate your expected monthly costs for using Azure Purview using with combination of Azure products – visit here to learn more about the Azure Purview pricing.
Microsoft bundles much of the Purview tooling into its Azure Purview Studio, a web front end for the service that exposes much of the resulting graph of your data sources.
How a Leading Retailer Leveraged Azure Purview to Improve Business Agility & Supplier Experience?
A leading US-based retail multinational corporation aspired to responsibly transform its datafor suppliers and users into actionable operational and inventory insights (specifically focused on Sales, Inventory, Probability, Forecast, Supply Chain, Omni Sales & EcomItem Setup/ Maintenance, and Ecommerce Optimization).
However, it was grappling with multiple data challenges such as quality of data, data inconsistencies, data inventory and access issues, inconsistent controls on data users, inefficient data management, data propagation and lineage problems, transparency concerns, and lack of robust tools to standardize data management.
The WinWire team, considered as an extension to the Microsoft Engineering team, helped the customer to operationalize data governance solution, conducted an in-depth analysis of Azure Purview, and provided feedback to their product development team for feature inclusions.
WinWire successfully created opportunities for data and insight monetization, built a scalable approach to offer better experience to merchants, suppliers, supplier partners, improved business agility, created a single source of data trust for future growth of the client.
How Can We Help?
Microsoft Azure Data Platform Services is a comprehensive cloud-based platform equipped with several unique tools to help customers in their transformation journey. It provides the customers the required flexibility to perform the internal business processes. At WinWire, we focus on providing our customers with the necessary tools and technologies to use the analytics services to gain competitive advantage.
Increasingly, Data Governance is becoming one of the vital requirements around which business capabilities may revolve around soon. Azure Purview is a tool created to provide a unified governance structure across your data landscape. Connect with us for free 1 hour Azure Purview Consultation.