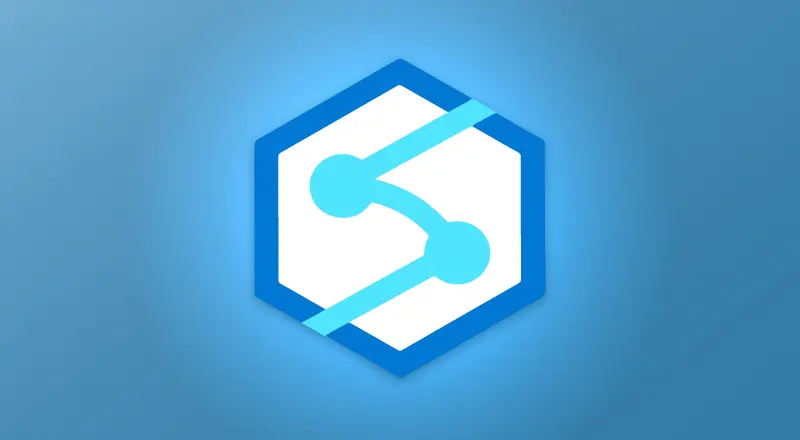 At its annual Ignite conference on November 4, Microsoft unveiled its major new Azure service for enterprises: Azure Synapse Analytics. This new product is poised to fill the gap between data warehouse and data lakes.Rightly so, the tech giant hails it as "the next evolution of Azure SQL Data Warehouse." It's phase next of Azure SQL DW.
What is Azure Synapse Analytics?
It's a limitless analytics service that brings together enterprise data warehousing and Big Data analytics. This unified experience prepares, manages, and serves data for businesses to tap into and leverages intelligence and addresses its machine learning (ML) requirements. It offers unmatched security features in the market, and is simple to deploy.
Azure Synapse Analytics – Features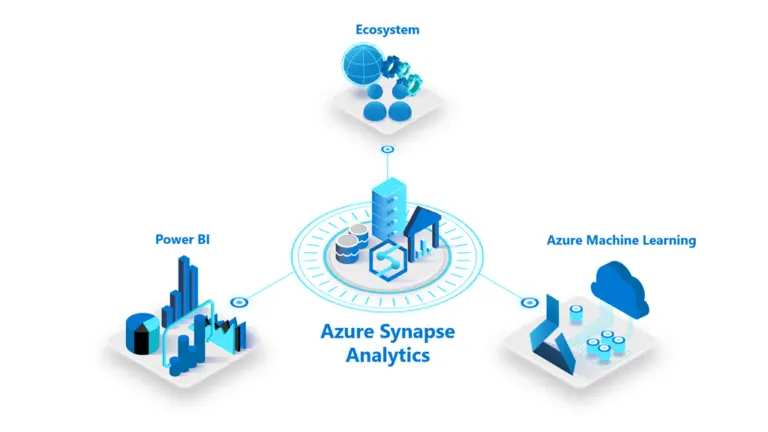 It gleans glean powerful insights at a fast speed across data warehouses and big data analytics systems.
It applies machine learning models to all your smart applications.
It dramatically cuts down on project development time.
It secures data with the most advanced security and privacy features like row-level security and dynamic data masking.
Data pros can optimize the performance of serverless on-demand queries or provisioned resources at ease in a single workspace with workload management, workload isolation, and limitless concurrency. A code-free environment also exists for managing data pipelines.
Affect on Your Business…Really?
Gartner predicts, "Through 2022, over 80% of data lake projects will fail to deliver value as finding, inventorying and curating data will prove to be the biggest inhibitor to analytics and data science success."
Today, many businesses worldwide grapple with manually classifying and creating an inventory for distributed and heterogeneous data assets to deliver value. Keep this into consideration, Azure Synapse Analytics has a rich catalog of functionalities that give businesses the advantage to reduce the time for leveraging intelligence from the insights. Did you know that Azure Analytics is 14x faster and is 94% less expensive compared to the other cloud providers? Yes, it is.
Does this intrigue you? Do you also want to enable the digital transformation through data? WinWire caters to diverse industries that will require Azure Synapse Analyticsto steer advances in digital transformation. In our experience with different clients, we've found that some business initiatives need a flexible data layer to extract data from multiple sources with different volumes quickly. Using AI, these businesses also need accurate forecasting of outcomes. This would need multiple professionals using multitudes of technologies, processes, solutions and tools to deliver value. All these problems have been resolved with the arrival of Azure Synapse Analytics.
Bridging the Gap between Data Lakes and Warehouses and Reporting
Date warehouses and data lakes are often completely distinct, but are essential requisites for many companies. Since both these do not work in synergy, it makes the decision-making process quite ambiguous.
Azure Synapse Analytics aims to bring these separate entities together in a unified experience and enhance the BI and ML capabilities. As it combines Power BI and Azure ML, it enables the for organization's ability to gather intelligence from its data and apply ML to all of its smart applications. This will enable users to connect and analyze more data across the analytics pipeline.
Azure Synapse Analytics also integrates a wide array of Microsoft services like Databricks, Informatica, Accenture, Panoply, Talend, Attunity, Pragmatic Works, Adatis and Apache Spark.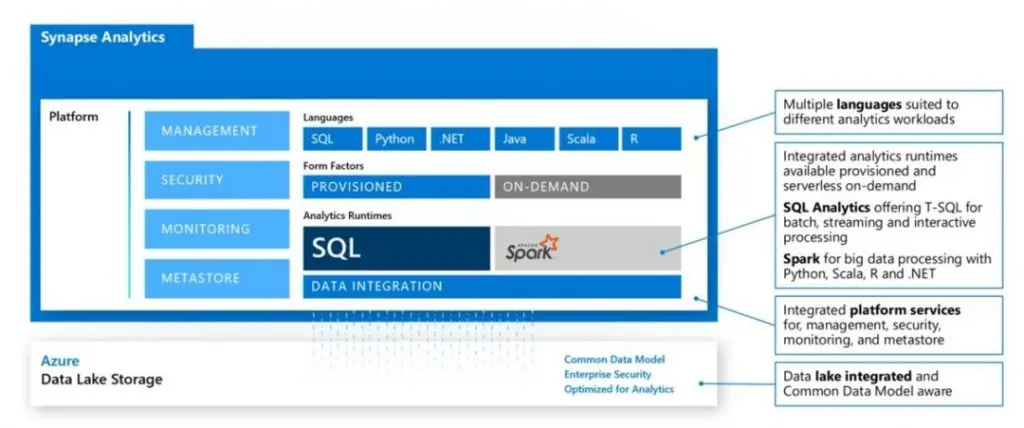 Azure Synapse Architecture
Azure Synapse architecture consists of four key components – Synapse SQL, Spark for Synapse, Synapse Pipeline and Azure Synapse Analytics Studio.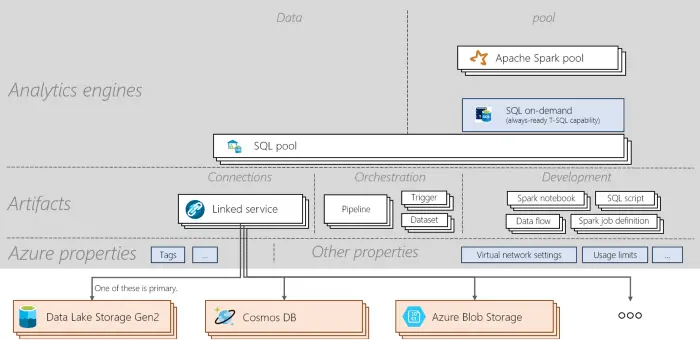 Why Azure Synapse Analytics?
Enterprise Data Warehousing: Azure Synapse is home to SQL Analytics and SQL pool (determined by Data Warehousing Units). Once inside the warehouse, ML algorithms train the data. This data is stored in relational tables with columnar storage.
Integrated Spark and SQL engines: A cloud-based, distributed SQL processing engine is at the core of this new product. It improves collaboration among data analysts.
Data Lake Exploration: It combines relational and non-relational data to build data warehousing solutions.
Streaming ingestion and analytics: In this new product, data is ingested into vast data stores from multiple sources. And the, real-time analytics is performed inside these data warehousing units.
Language choices: Vast variety of choices in languages from T-SQL, Python, and Scala to Spark SQL and .Net.
AI and BI combined: The combination of Azure ML and BI helps you complete end-to-end analytics solution.
Code-free data arrangement: Huge data sets from multiple native connectors are easy ingested in a code-free visual environment.
Industry-led management and security: The built-in features inside the product ensure that your data is visible only to authorized users
How to Get Started with Azure Synapse Analytics?
What builds the foundation of Azure Synapse? A cloud native, distributed SQL processing engine. The new product allows organizations to use SQL for a wider set of analytics use cases. Here's how you can get started:
You can score ML models within your data warehouse with the native PREDICT statement.
Using direct streaming ingestion support, you can execute analytical queries over streaming data.
Easily share both data lake and data warehouse data inside or outside your organization with Azure Data Share integration.
As you set out to democratize your data warehouse, the execution of heterogeneous workloads, while providing flexibility and control over data warehouse resources.
Businesses can continue to employ their existing data warehouse workloads in production with generally available features on Azure Synapse.
WinWire provides advisory, implementation, and support services for data warehousing solutions based on Azure Synapse Analytics to help enterprises integrate data warehouses into their analytics environment for faster decision making with minimal cost. Connect with us to get started with Azure Synapse Analytics.