It's a no-brainer that data is one of the key drivers of business strategy and projection. Businesses glean insights from their data to gain a sustainable competitive edge and fuel innovation for creating a business impact. According to Gartner, by 2022, 90% of corporate strategies will explicitly mention data as a critical enterprise asset and analytics as an essential competency.
However, weak data maintenance and siloed data management applications, on-premises, can negatively impact business performance. In my perspective, businesses typically have two categories of analytical systems that run independently of each other and often lead to uninformed business decisions:
1. Data warehouses: Designed for data analytics performance, these are managed petabyte-scale services with controls to manage compute and storage independently.
2. Data lakes: Composed of data storage and data analytics, this is a highly scalable public cloud service that empowers Microsoft customers to distill insight from large, complexdatasets.
To bridge the gap, Microsoft rolled out a single cloud analytics service – Azure Synapse Analytics and Azure Synapse Link- that make the businesses agile.
Azure Synapse Link
Microsoft recently launched Azure Synapse Link. Available in Azure Cosmos DB, it's a cloud-native implementation of hybrid transaction/analytical processing (HTAP). It will soon be available in other operational database services such as:
Azure SQL
Azure Database for PostgreSQL
Azure Database for MySQL
Azure Synapse Link eliminates the barriers and tightly integrates Azure operational database services and Azure Synapse Analytics. It facilitates no Extract-Transform-Load (ETL) analytics in Azure Synapse Analytics against your operational data at scale.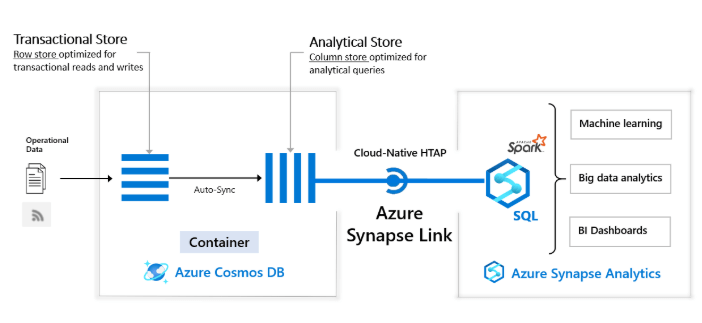 Source: Microsoft
Azure Synapse Link offers several advantages over traditional ETL-based solutions such as:
1. Reduced complexity: It empowers you to directly access Azure Cosmos DB analytical store without going through the complexity of data movement. Any small update made to the operational data is visible in the analytical store in near real-time without ETL or change feed jobs.
2. Real-time actionable intelligence: Access real-time insights on your operational data with Azure Synapse Link. With many layers to cull, convert and load the operational data, ETL-based systems often have higher latency for operational data analysis to uncover new business scenarios.
3. Cost effectiveness: You can get a wholly managed solution for operational analytics at competitive prices. It removesthe extra layers of storage and calculates traditional ETL pipelines for operational data analysis.
4. Optimized for heavy analytics workloads: The analytical store is optimized to offer scalability, simplicity, and performance for analytical workloads with no dependency on the run-times computation.
To understand Azure Synapse Link a bit more, please watch this video on Azure Synapse Link.
What's Unique About Azure Synapse Analytics?
In what's being touted as the post-COVID era, I feel it's the top priority of businesses to attain maximum agility in gleaning insights from transactional data in their operational databases to be able to make quicker and more informed business decisions.
I strongly recommend Azure Synapse Analytics as a viable solution to accomplish this feat from the performance and secure experience point of view. Unveiled in November last year, it's predicted as a game changer in the industry and serves dual purposes:
1. It closes the gap between enterprise data warehousing and big data analytics to empower teams to collaborate, create and manage their analytics solutions efficiently.
2. It supports hybrid transactional analytical processing (HTAP) workloads that otherwise is expensive and seemingly complex.
Its cloud-native architecture is unique. On clicking within the Azure database service, a direct data link is established with Azure Synapse Analytics, which then activates the operational data. No complex database compute resources are needed.
Azure Synapse Analytics enables customers to get insights from their real-time transactional data stored in their operational databases with a single click, with a faster approach. It brings together relational and non-relational data in the data lake with a simple SQL query. This can help optimize the performance of all queries with smart workload isolation, workload management, and a truly limitless concurrency.
It's specifically designed to support the ever-evolving DevOps strategy that needs the operations and development team to collaborate and create and implement services that work more effectively throughout their life cycles. These features were clearly missing in Azure Data Warehouse.
Microsoft Azure Synapse Analytics has an edge over the other last product for it enables the businesses to leverage game-changing technologies such as artificial intelligence and data analytics to comprehend the weather conditions better, handle tasks more efficiently and search engines better interpret users' goals.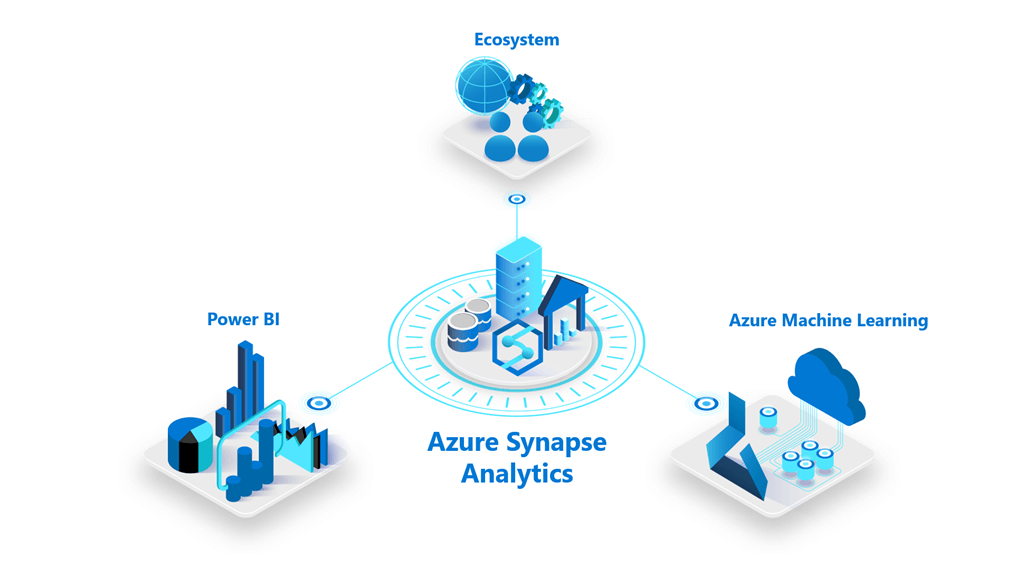 Source – Microsoft
Azure Synapse Analytics, a combination of Azure Data Factory with Azure SQL Data Warehouse, allows the freedom to the user to query data on the desired terms leveraging either serverless on-demand or provisioned resources, at scale. Though it doesn't combinePower business intelligence (BI)or Azure Machine Learning into the same service directly, it does provide a unified experience to prepare, process, manage and serve data for actionable BI and machine learning requirements, at user interface levels, so the flow is natural.
It allows you to apply intelligence to your important data efficiently – from Office 365, Dynamics 365 to SaaS service supporting Open Data Initiative. It also helps effortlessly share that data. View our on-demand session on Azure Synapse Analytics to learn how it brings together enterprise data warehousing and big data analytics with a unified experience to ingest, prepare, manage and serve data for immediate BI and machine learning needs.
To leverage this new, well-designed Azure Synapse Link and Synapse Analytics for limitless analytics, talk to us now.