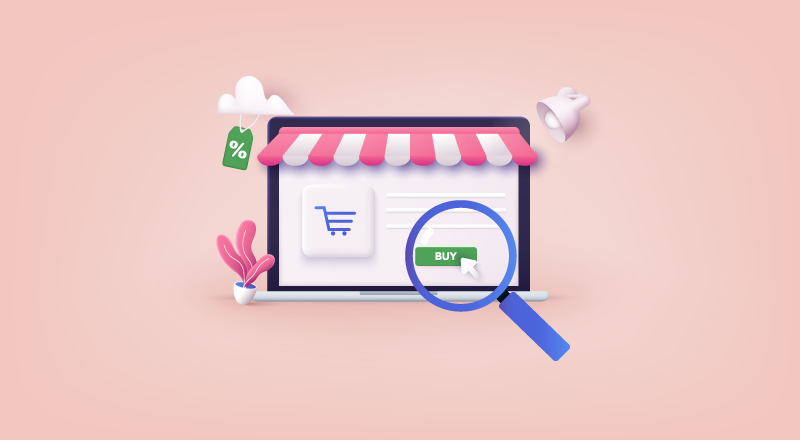 With the onset of the COVID 19 pandemic, there has been a drastic reduction of customers visiting stores in-person, as more and more people prefer to shop online. This has resulted in changes in companies' business models.
A good E-commerce website is key to its success. E-commerce website is a business that thrives on its online customers. When a customer goes shopping at a physical store, the customer has already made a commitment to visit and might give the brand a chance. But on the other hand, in online choices are many. So, unless from the beginning the ecommerce website should be engaging, else the user might just leave. So, to keep the website error free ecommerce testing is necessary.
What is eCommerce testing?
E-commerce testing is the technique of examining how well an e-commerce website or application performs. E-commerce software testing checks for usability, functionality, compatibility, security, and performance of the website.
And the elements that an online store contains and need to be tested regularly for better UI/UX and ROI include its Features, Integrations, Layout, Multiple Payment Options, Products of various categories, Content and customer data, and others based on the business category.
Importance of eCommerce website testing
E-commerce is a complex and challenging business. And every customer expects high-quality products and services.
To focus on customer expectations, improving the website performance, providing a smooth buying experience, and delivering the highest quality services; businesses need to cultivate a testing culture. It can happen when we adopt trends of manual testing and automation testing.
The purpose of both types of testing includes the same as mentioned here.
Preventing errors during online shopping and digital transactions and ensure customer satisfaction.
Determining how well ecommerce web applications fulfill system requirements such as reliability, availability, maintainability, security, and safety.
Evaluating whether the application complies with all of the procedures, standards, and regulations required for e-commerce transactions or not.
Analyzing the website performance, loading speed, how it handles traffic spikes, etc.
Enhancing the user friendliness of the website to business users.
How eCommerce Performance Testing Changed
Over time, e-commerce applications have changed to provide a better user experience with the addition of new technologies like:
Personalized product recommendation engines
Chatbots providing virtual services
Embedded media
Augmented reality providing a real experience of product
With the addition of these embedded tools and technologies, handling a variety of third-party integration and creating test data for them require a lot of effort. This makes the whole process of load testing an e-commerce platform very challenging
For e-commerce, testing should mainly focus on ensuring performance and availability. All integrated components, which play a vital role in application performance need to be involved while creating a Test plan.
Types of Performance Testing for eCommerce
Usually, performance testing is conducted to check the responsiveness, speed, and stability of an application, and ensures that a computer, device, or network performs as expected under specific workload conditions. However, when it comes to testing e-commerce applications, there are other tests that should be run to monitor the performance: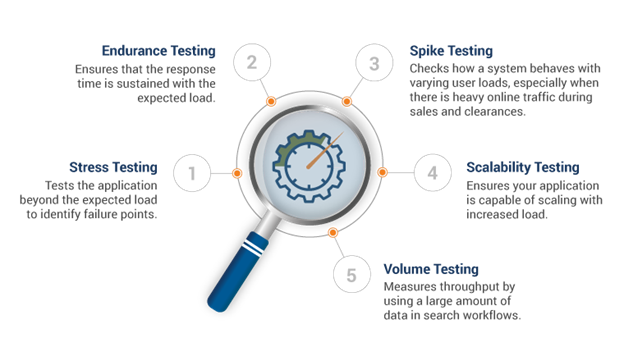 Key Testing Scenarios
To ensure the overall application performance, a few considerations/scenarios should be undertaken during testing:
There should be more focus on search transactions as they are the most used scenarios and help to verify database Input/Output flows.
Placing orders from different categories, thus simulating the behavior of real customers.
Creating new user records in the application database to verify registration workflows.
Placing concurrent orders for highly in-demand products.
Guest/existing users perform product quick searches and verify purchase workflows.
Cover inventory-based scenarios to ensure that inventory can withstand with desired user load.
Conclusion
A culture of testing will play an essential role in the success of an organization. Ensuring a smooth customer experience is important to retain users.
Through this guide, we looked at the importance of eCommerce testing and how it has evolved and several testing scenarios. eCommerce testing will largely benefit organizations to keep pace with the ever-increasing, ever-evolving needs, and demands of their consumers.