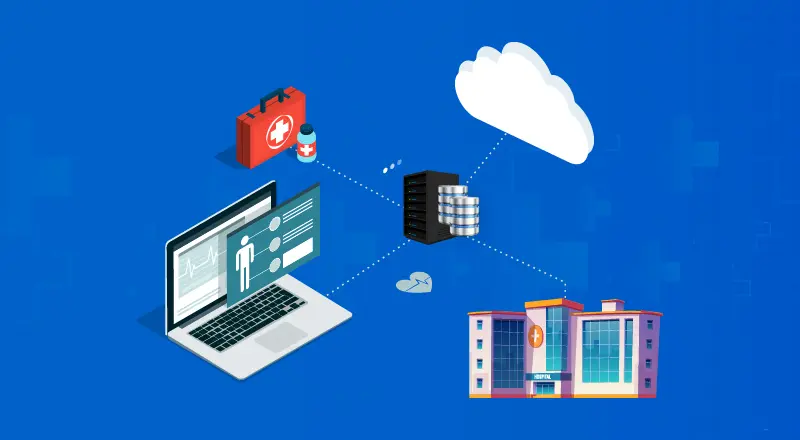 The need for innovation and progress in interoperability standards in healthcare cannot be emphasized enough. Health Level Seven, better known as HL7, has contributed to the cause with its regular updates and improvements over the earlier versions. Though there is a lot more that needs to be addressed and tackled in the areas of managing, storing, sharing, and retrieving healthcare data and information for research processes, it takes nothing away from the fact that the launch of the release 4 of Fast Healthcare Interoperability Resources (FHIR) makes the future look bright for healthcare IT users. Using the best of web standards and state-of-the-art APIs, the latest release brings together the best of Clinical Document Architecture (CDA), HL7 v2 & v3, making its adoption and implementation more comfortable and smoother. With right API support, FHIR 4 is expected to be a significant advancement and encourage excellence in EHR interoperability.
FHIR is Revolutionizing Interoperability in Healthcare
The Release 4 of FHIR provides more stability and greater interoperability, thus empowering the medical practitioners worldwide with the easy and meaningful exchange of electronic health records. When implemented, it will make clinical workflows smoother and more efficient. Health IT users are focussing on creation and innovation of a range of compatible APIs to bring about increased uniformity and seamlessness in the access and exchange process. Also, advanced organizational controls and functions are being developed every day to allow better segregation and analysis of the data available, thus aiding cross-referencing, research, case studies, and more.
While FHIR releases keep upgrading the offerings, its practical uses are still not clear to a lot of healthcare and non-healthcare professionals. A few use cases might clarify how FHIR impacts everyday healthcare services with the help of latest tech developments.
1. Making Personal Health Record (PHR) usable – Modern day health apps help one keep a record of their everyday health data such as heart rate, sugar, and blood pressure. The role of FHIR here is to standardize the communication and smoothen the data transfer process in a secure environment.
2. Making documents sharable – Most patients today can view their prescriptions and diagnostics reports online. With the help of unique credentials, they can view their reports without having to go down to the hospital or lab. But current technology allows limited mobile access to such documents. FHIR, along with compatible API integrations, provides ways to create a repository of these essential documents and allow mobile devices to access it as and when needed.
3. Providing decision assistance – FHIR when plugged with smart data devices and integration software's can translate quantitative data into decision aiding analysis. It can help in prescription safety checks, data-based diagnostic suggestions, and patient surveillance. As of now this functionality is limited by a number of factors, nevertheless it is a big leap of development in healthcare technology.
Exploring new possibilities with Azure for FHIR
As mentioned above, using right APIs can magnify the potential of FHIR. Azure—a PaaS (Platform-as-a-Service) backed API by Microsoft—is a leading API for FHIR, designed for rapid exchange even with large data sizes. It increases interoperability possibilities manifold and lets you do much more with your electronic health records, documents, and other resources.
With Azure, you can deploy a FHIR service for quick and relevant health data management, analytics and solutions. Operationally, it takes off all caps in terms of scalability and creates an environment conducive for accelerated machine learning, driving excellence and innovation in global healthcare. Here is a quick look at its key features:
Increased security and bandwidth– Azure covers more than 90 compliance certifications, including ISO 27001 and meets HIPAA regulatory requirements. It, thus, helps secure data with multi-layered, advanced security intelligence and ensure a safe, scalable storage environment.
Easy maintenance– Taking the load off your key FHI resources, Azure creates room for regular operational and efficiency checks and plans further improvement and investment in FHIR.
Enhanced interoperability– Working with other FHIR APIs – including those outside your network, Azure allows leveraging a wide range of interoperability resources. For example, it encourages machine learning for various functions and opens up a whole new world of collaborative opportunities.
Better organization and control– Azure facilitates monitoring and managing the data, its accessibility filters, organization, storage, tracking, analyses, and auditing.
Enabling remote monitoring – COVID-19 has accentuated the need for remote monitoring platforms and home care services. Azure IoT Connector for FHIR is fueling the Internet of Medical Things (IoMT) in a big way by converting biometric data (such as blood glucose, heart rate, or pulse ox) from connected devices into FHIR resources, enhancing scalability and real-time data processing, and seamlessly integrating with Azure IoT solutions and Azure Stream Analytics. It is a unique tool designed to enable a trustable ecosystem that securely manages Protected Health Information (PHI) and allow interoperability with different health record software's, aiding remote monitoring home care for patients in the future.
Transforming Remote Care during COVID-19
Many of Microsoft customers are pioneers in revolutionizing remote patient care with IoT and FHIR focussed solutions. Humana's Conviva Care Centers, for example, are accelerating their remote monitoring program for patients with chronic ailments with a new platform where they will be able to share daily health data, like weight, temperature, and blood pressure with their care team. Azure IoT Connector for FHIR facilitates transfer of this highly secure real time data from in-home devices to medical care staff, with more than one proactive virtual touch points.
Also, there is Sensoria Health's Motus Smart—a device designed to remotely monitor patients with diabetic foot ulcers, which is enabling diabetes rehabilitation with the help of Azure IoT Connector for FHIR. Information is securely transferred from from the Motus device to patients and their care team, in the form of quantified patient adherence and activity data. It is then used to extend timely medical guidance to patients and thus reducing the risk of amputation.
The shift from in-person medical screenings to remote patient monitoring is inevitable now. It is important to relook at the current distribution of resources and revising allocation policy to accommodate modern healthcare technologies. With the objective of encouraging adoption, the pricing system of Azure API for FHIR is quite simple and upfront. There are no hidden costs; you only pay for what you use. The pricing has three key inclusions and the cost computation is different for each of them—service runtime is billed for every hour and covers the compute supporting the RESTful API layer; structured storage is billed for each GB used for your SSD-backed data and index; provisioned throughput is calculated in Request Units per second and scaled in increments of 100 RU/s.
FHIR 4 is undoubtedly a fiery upgrade on its previous versions and is sure to become a breakthrough technology that aims at unprecedented ease of healthcare data exchange and usability. To understand further how Azure helps you deal with patient data more efficiently, contact us.