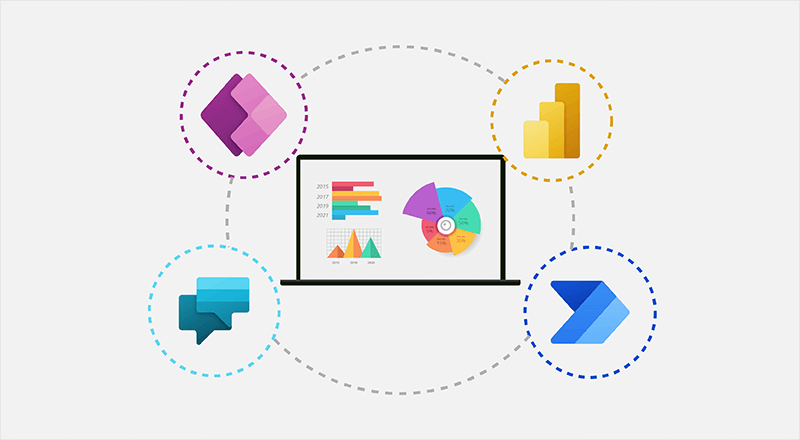 Businesses are grappling to optimize operations for their business applications. They need application development platforms that are flexible, extensible, and ensure fast time-to-market.
Microsoft Power Platform is a powerful business application platform, which offers businesses effortless application building and data insights. The adoption of the Power Platform has been exponentially increasing since its launch in 2017. Organizations leverage the Power Platform to build robust, scalable, and secure business solutions.
With the adoption of the Power Platform within a organization, we see an organic growth of citizen developers supported by professional developers. Organizations need a Power Platform Centre of Excellence (CoE) to drive best practices and guidelines to improve consistency, compliance, and governance throughout the enterprise. A CoE helps implement change initiatives consistently within the enterprise.
Why Need A CoE For The Microsoft Power Platform?
Setting up a CoE allows organizations to grow and enable citizen developers while maintaining development, security, and data governance best practices.
Not having a CoE can result in un-intended data exposure, inconsistent experiences and duplication of effort that can cost an organization wasted time and money.
A CoE helps remove geographic and organizational development silos to drive efficiencies, knowledge sharing and adopt best practices across the organization.
What You Need to Build a CoE That Delivers?
Here are some of the important things to consider, while creating a CoE:
The Power Platform Administration Portal is as an important part of CoE.
Environment Strategy: Create separate environments for development, testing, and production. You can look at introducing trial subscriptions for testing purposes if you haven't opted for the paid ones.
Analytics: Track the performance and usage of applications and workflows created in Power Platform.
Governance: Ensure control and compliance by managing the data policies on how your solutions are accessing data.
DevOps: As you set out to build a CoE, you must establishing the tools and systems for smooth and consistent internal development aligned to the Microsoft Power Platform tooling and solutioning guidelines (CLI, Package and deployment etc)
Community and Onboarding: As the adoption and use of the Power Platform grows within the organization the CoE needs to implement a strategy to onboard new developers and provide a community to collaborate and share best practices.
Create a dedicated place for helping the new Microsoft 365 users to come onboard and leverage the Microsoft Power Platform.
Create a separate knowledge base of templates and practices.
Encourage your team to share and reuse common assets.
We Can Help You through the Whole Process
Setting up a CoE is worth investing as it nurtures your organization's organic growth while maintaining compliance and standard processes.
We, at WinWire, can help you create a CoE that supports your Power Platform journey starting from assessment, setup/configuration, maintenance, and governance.
We can help you leverage the Power Apps Component Framework to create code components to provide an enhanced user experience.
Our experienced team of industry professionals well suited to develop multiple applications in Power Platform and Microsoft 365. We offer relevant training that can help you with the knowhow of these tools.
We're fully equipped to support you in designing your own CoE and accelerate time-to-value by developing critical parts of data architecture through a fast and cost-effective approach.
Our CoE services include: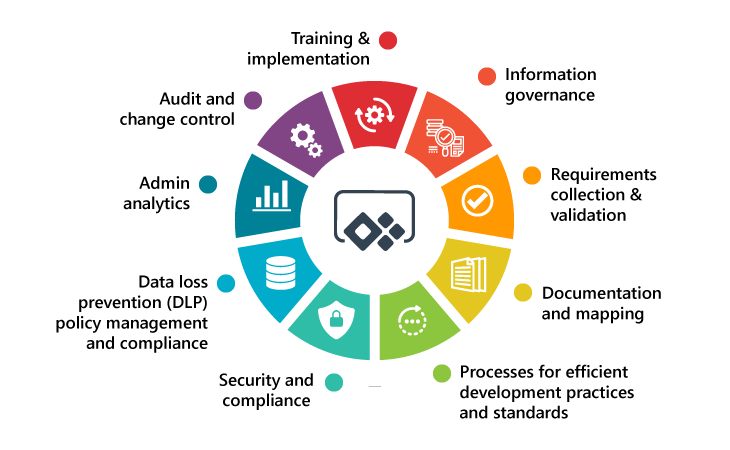 Let us help you achieve wider adoption of the Microsoft Power Platform, better security and governance, and greater ROI through business automation with our Power Platform CoE implementation service.
Contact us today for a free consultation.