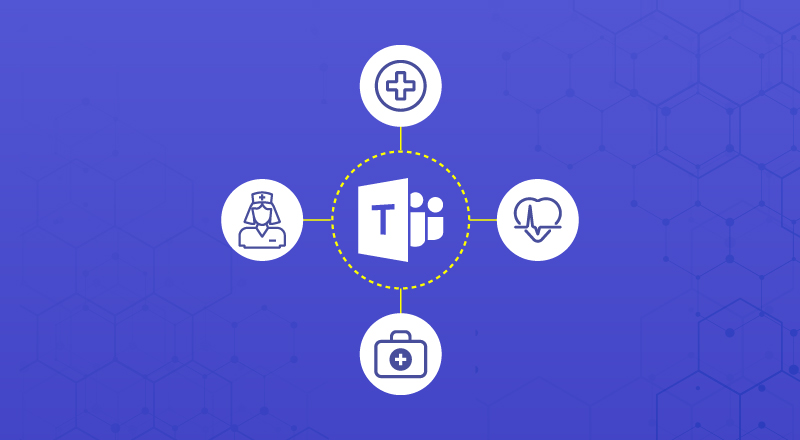 The healthcare industry is complex.Diagnosis, treatment, and medication, clinicians and hospitals have plenty to keep track of, and that too thoroughly and professionally. However, most clinicians face a myriad of challenges in delivering high-quality care for patients. One of the biggest problems they face is fractured systems and processes plaguing their workplace. Microsoft Teams for Healthcare can help.
Clinicians need a modern workplace that facilitates easy communication and collaboration across the care team. A frictionless handoff of information helps in:
Saving a lot of time.
Improving cost management.
Timely clinical decisions.
Better patient care and outcomes.
At HIMSS 2019 conference, Microsoft unveiled Microsoft Teams that lays out a road-map to empower healthcare professionals to offer their patients the best care possible thereby improving clinical and operational outcomes using secure Microsoft 365 cloud.
It's indeed one of the most impactful business collaboration tools for the healthcare organizations in boosting their clinical efficiencies and productivity in administering best quality patient care in a multidisciplinary hospital setting. It has a collaborative editing feature available on Word, PowerPoint, and Excel files. Read this blog to learn about features of Microsoft Teams.
Value for Caregivers
There are many features of Microsoft Teams for healthcare, currently under development to help hospitals with:
Care Coordination and collaboration
Safe Messaging
Other Lines of Businesses such as:

Telehealth
Electronic Healthcare Record (EHR) integration
Firstline Worker system integration
Microsoft Teams enables physicians, clinicians, other care giving staff to coordinate and collaborate efficiently by:
Offering Office documents that make them one virtual team
Enabling them to have frequent conversations around patient care
Providing audio-video (AV) mode to manage daily meetings
Offering the Patients application to monitor patients vulnerable to high risk ailments
Real-Time work schedule planning among the medical team
Setting up of a clinical template to ensure consistency of user experience and drive adoptability within the healthcare group
Portability
Patient data ought to be safe and private. However as cyber security threat looms large on the way to patient record portability, Microsoft Teams can incredibly help healthcare organizations in safeguarding patient data.
Let's understand that regulatory changes like the General Protection Regulation (GDPR) in the European Union and the 21st Century Cures Act in the United States, bring about a major shift in the way healthcare organizations approach protecting and sharing their patients' data. In case of failing to share this data in a timely and safe manner, heavy penalties are levied on the healthcare providers.
The mounting need for openly sharing patients' data offers a big scope for hackers to play around and healthcare organizations to manage and prevent that data from cyber threats. Hence, it's important to have a smart cyber security strategy in place that offers the adequate shield of cyber security to this sensitive data. Organizations that fail to meet these criteria are penalized by the government for non-compliance.
Analytics on Teams for Deeper Insights and Re-alignment for the Goals
Microsoft Team's rich analytical capabilities empower healthcare professionals view analytics for team that they own or a member of and analyze usage patterns to glean insights such as number of active users, guests and messages from each team member.
For admins, cross-team analytics includes number of messages, trends for team activity and active user base. On the other hand, per-team analytics provides a more granular view of usage data (like temporal-based charts) for a particular team.
Resolving the Present Challenges
Microsoft Teams, a significant member of the Office 365 suite of applications, is the fastest growing application in popularity and usage across the healthcare vertical. It offers a digital workplace for healthcare teams that allow them to coordinate and collaborate with great ease via secure chat, video calls and files, all on one platform thereby eliminating the need of workflow processes and tools such as LOB applications, in silos.
This application has enabled clinicians and healthcare professionals to collaborate in real time using features like chat, video calls, priority notifications, message delegation, ability to integrate FHIR-enabled EHR data with the application, more powerful native tabs, and many more.
Today, 420,000 organizations, including 89 of the Fortune 100 and many other innovative healthcare providers like New York's Northwell Health has deployed Microsoft Teams across their organizations.
"Based on our research, Microsoft Teams directly addresses the top challenges facing healthcare providers in electronic messaging in hospitals and health systems." – Greg Caressi, Frost & Sullivan
How WinWire is Empowering Healthcare Organziations with Microsoft Teams
Healthcare vertical is evolving at a breakneck speed. Adopting innovative operational processes and tools is the need of the hour to be able to deliver a superior-quality patient care, while addressing all potential security concerns.
We, at WinWire, enable healthcare organizations with:
Information Management
Security and Compliance
Teams deployment

Commands and actions
Bots and connectors
Microsoft graph
Tabs
To cite one of our recent accomplishments, we helped one of the world's leading provider of genomic-based diagnostic tests that helps to optimize cancer care in leveraging Microsoft Teams. This client needed its employees and partners to communicate and collaborate before, during and after the genome testing process.
They had been strongly relying on Skype for Business and Microsoft Teams. With Microsoft phasing out Skype for Business, the client wanted to consolidate their collaboration and communication tools in Microsoft Teams.
WinWire performed a thorough assessment of the technical environment and brought the right stakeholders together to define the scope, goals and timelines. A roadmap was charted out to define how to communicate, train and support users, and then a pilot version was implemented to validate the organization's readiness to migrate to Microsoft Teams.
We successfully helped our client transition and it resulted in:
Enhanced collaboration and productivity through a single platform
Improved operational excellence
Future ready platform ensuring seamless upgradation
Connect with us to learn how Microsoft Teams can help coordinate care in real-time by enabling care teams to communicate and collaborate in a single secure place to accelerate decision making.