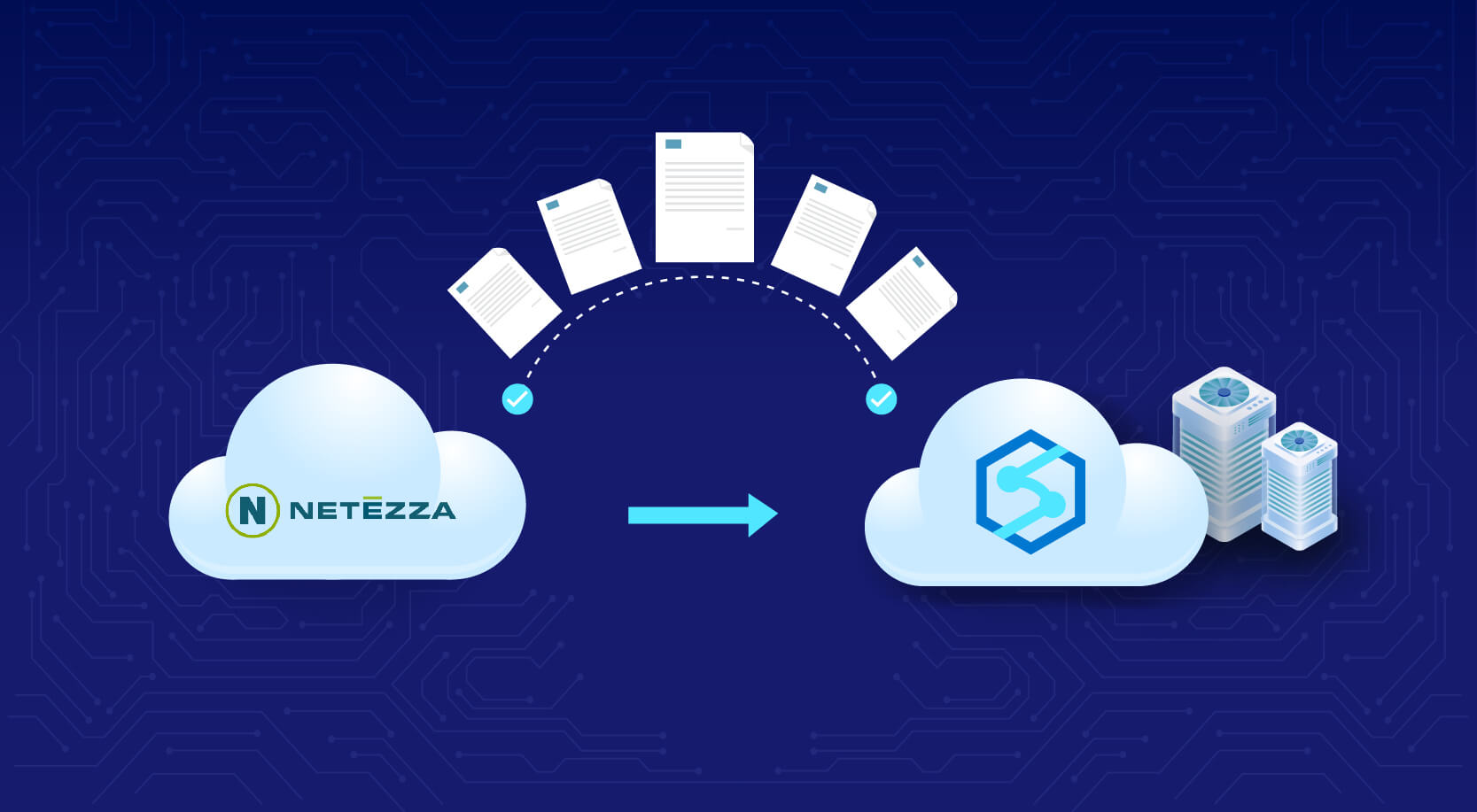 Modernize Your Digital Ecosystem
There are many compelling reasons why an Enterprise might consider moving from IBM Netezza to Azure Synapse Analytics. Some of the most common reasons include:
Cloud Native Capabilities: Azure Synapse Analytics is an ideal solution for organizations seeking the benefits of cloud native architecture without the burdensome task of infrastructure management. With its comprehensive cloud service, it facilitates data warehousing, big data processing, and analytics on a large scale.
Unified Analytics Platform: Azure Synapse Analytics simplifies the process of data ingestion, transformation, and analytics by offering a Unified studio that integrates data integration, data modeling, virtual querying, and various compute engine options such as SQL and Spark. It seamlessly integrates with Power BI, Azure ML, Azure OpenAI, Purview, and other services within the Azure ecosystem. This comprehensive integration enables businesses to swiftly access valuable insights, streamlining the entire analytics workflow.
Cost Efficiency: Azure Synapse Analytics enables enterprises to implement a range of architectures including Lakehouse, Data Mesh, Big Data, Enterprise Data Warehouse, or a Logical Data Warehouse. It seamlessly integrates diverse workloads and offers the flexibility to independently scale storage and compute resources, providing excellent cost control. The pay-as-you-go model offered by Azure grants enterprises a distinct advantage in cost optimization based on their unique usage patterns. This results in substantial cost savings compared to traditional on-premises solutions like IBM Netezza, which entail significant upfront investments and ongoing maintenance expenses. In fact, Synapse Analytics delivers a 271% return on investment (ROI) and 94% cost savings!
Security and Compliance: By adopting Azure Synapse Analytics, enterprises can harness a wide array of security and compliance capabilities provided by Azure. These encompass encryption for data at rest and in transit, robust identity and access management features, and certifications for GDPR, HIPAA, and ISO compliance. This transition enables enterprises to leverage the integrated security features of Azure Synapse Analytics, aligning their data practices with industry-standard compliance standards.
Netezza to Azure Synapse Analytics Modernization
The reliability of IBM Netezza's Massive Parallel Processing architecture has made it an asset for enterprises across the world who struggle in dealing with vast amounts of data which require high performance levels. Those still utilizing the platform are now grappling with various hurdles that affect their operations significantly. These include scaling up costs that create financial constraints, inflated infrastructure maintenance expenses, an incapacity to handle intricate data workloads, limited support for unstructured information, and insufficient support on security matters and governance requirements.
Migrating to Azure Synapse Analytics: The Process of Leveraging
Migrating to Azure Synapse Analytics: The Process of Leveraging WinMaaS Toolkit
Leveraging our vast experience in assisting customers with migrating their on-premise legacy data ecosystems to Azure Synapse Analytics, we have crafted a well-structured framework and toolset called Migration as a Service (WinMaaS). This comprehensive toolkit comprises four crucial elements that are vital for ensuring a smooth and successful modernization journey.
Analyze
First is the analysis of the existing environments, including workload inventory of NzSQL scripts, Nz_Migrate, NzLoad, Tables, Materialized Views, Views, dependencies, environment sizing, prioritization of data objects and risks. Define level 0 modernization plan.
Architect
Second comes the Azure services setup, define data architecture, and data migration approach. This includes configuring storage, compute, network and security services. Apply the best practices for various workload scenarios and mapping appropriate services to use cases, like Serverless SQL vs. Dedicated SQL vs. Spark.
Pilot
For the identified scope, migrate the data model and code. Automate migration, determine patterns for improvement, incorporate learnings, and finalize the migration and modernization roadmap.
Why Azure Synapse with WinWire?
Realize 30% cost savings through WinMaaS Toolkit and automation!
How WinWire Can Accelerate Netezza to Azure Synapse Analytics Migration
How We Migrate and Modernize
We bring automation-based assessment, conversion, and validation with WinMaaS Toolkit.
We leverage our migration toolkit to handle high volume data migration without impacting the current business team.
We build a comprehensive project plan with deeper discovery and assessment.
We deliver modern capabilities by enabling Synapse Analytics services for the workloads.
We deliver a Metadata-driven ingestion process with WinWire Automated Ingestion & Data Quality (AIDQ) toolset.
Outcomes Delivered
Lower risk of migration with fact-based and automated assessment of the current estate.
A 30% cost savings through automation.
Better control over the migration process with dashboard-based tracking.
Adopt newer capabilities, like unstructured data management, Spark processing, data governance, Machine learning and OpenAI on Azure Synapse.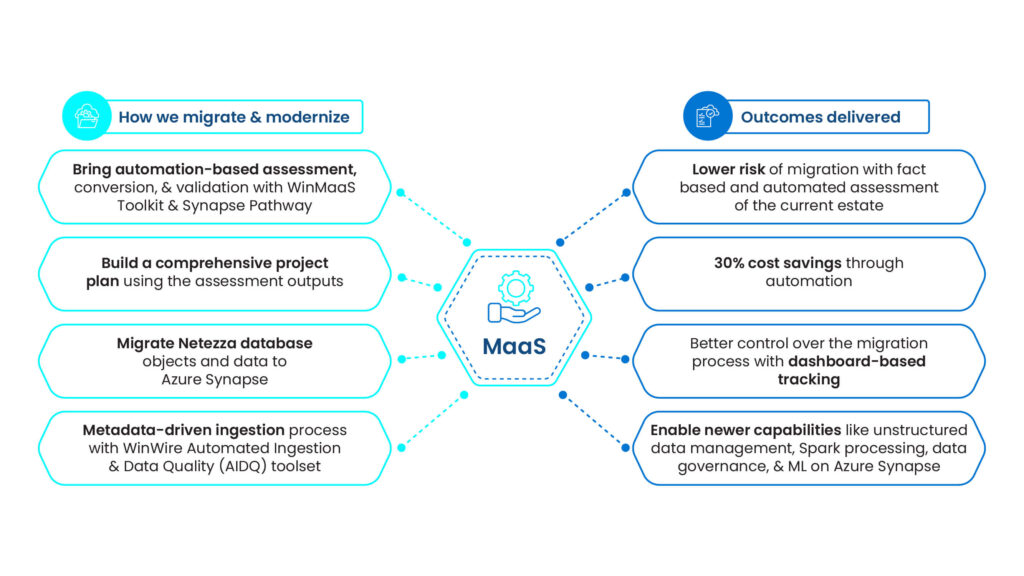 Customer Success Story
WinWire recently helped a nonprofit integrated healthcare system serving more than 80 communities on the West Coast and Hawaii modernize their 20TB+ of Oracle, Tableau, and informatica-based data estate to Azure Data Services. The result was an astounding $1 MILLION cost savings a year!
Get Started on Your Modernization Project
Making the choice to transition to Azure Synapse Analytics should be grounded in a comprehensive evaluation of your enterprise's unique needs, current infrastructure, and future objectives. It is crucial to thoroughly assess these factors before proceeding with the migration. This isn't something you need to figure out on your own.

We'd love to learn more about you and what your unique needs are. For quicker insights on your Netezza data ecosystem and modernization plan, leverage our 2 week Azure Synapse Analytics Assessment or reach out to WinWire for more details.