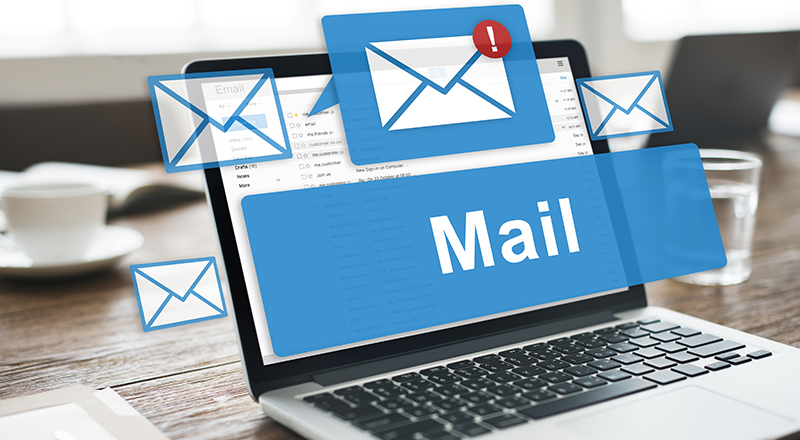 Recently I was discussing at a forum about the evolution of enterprise IT in last decade and the key factors driving it, towards the end of the discussion without any amazement we unanimously picked mobility and cloud computing as the top two technologies which are transforming enterprise IT today are "Mobility" and "Cloud Computing". While one has revolutionized the ways business users are consuming the information, the other is fundamentally changing the way how enterprise IT looks at Infrastructure, platforms and applications hosting. This is clearly evident from the fact that almost all of the top software and hardware companies, in one form or the other, are making huge investments and gunning for the piece of the market for these two technologies.
Both these technologies has been around for a while now but If we analyze their maturity levels individually from the enterprise IT perspective, we will see a difference. The available options for enterprise mobile strategies have matured (rather forced to mature because of lack of options) to a level where organizations have now started feeling comfortable and are prepared for the upcoming future. But in my views, the same cannot be said for the enterprise cloud strategy. Though majority of IT decision makers are more than convinced that cloud is the future but they are still slightly wary or rather confused (and rightly so) about how to put all the nuts and the bolts together.
My take on evolution of cloud technologies
No doubt cloud technologies are evolving very fast, in fact faster than any other technology in the industry, but it has not yet reached to a level (as it stands currently) where organizations (especially the large organizations with huge on-premises investments) can largely feel confident and comfortable that their cloud investments can coherently complement their existing investments on on-premises infrastructure and platforms. But I perceive that it is a temporary phase in the evolution of cloud computing and needless to say that cloud service providers are already making huge investments in this area.
To gain a deeper understanding, on a high level the evolution of cloud technologies can be classified into three generations:
1. First generations of cloud technologies were largely standalone with no real direct connectivity of resources between on-premises and cloud, the focus was more on demonstrating that cloud computing as a concept is feasible. model
2. During the second generation, investments were made with an effort to develop mechanisms to somehow provide bidirectional access of resources between on-premises and cloud. Hybrid deployments were possible but were patchy.
3. During the third and current generation, major investments are being made to enable true hybrid deployments which can transform cloud as a natural extension of the customer's existing on-premises investments.
Microsoft Cloud Strategy
In the recently concluded Microsoft conference Ignite 2015, it was interesting to see that the core theme of the entire conference was around hybrid deployments whether it is at infrastructure level, platform level or services level. The message, which was repeatedly conveyed in the sessions across product line, perfectly sums up the Microsoft's take on cloud deployments in general.
"It is about bringing cloud to you and not expect you to migrate everything to cloud"
While it is true that Microsoft has been late to the party but their overall approach towards cloud technologies (as it stands) looks more practical and appealing. Though I may sound like a big proponent of the hybrid deployments but strongly believe that this is where the maximum benefit of cloud as concept can be reaped, both in terms of providing flexibility and added computational powers. It will help us in penetrating a large section of the market where customers are currently undecided, either because of their specific security/compliance needs or are reluctant to fully migrate their existing systems to cloud. It can also become an interim state before fully migrating to cloud.
SharePoint 2016 – In cloud first and mobility first era
During the conference, Microsoft also provided a sneak peek of the work underway for SharePoint 2016. Apart from the attention to the trends in content management, team collaboration, user experiences across devices, the key focus with SharePoint 2016 will be on how the cloud can be blended into existing on-premises scenarios in new and compelling ways.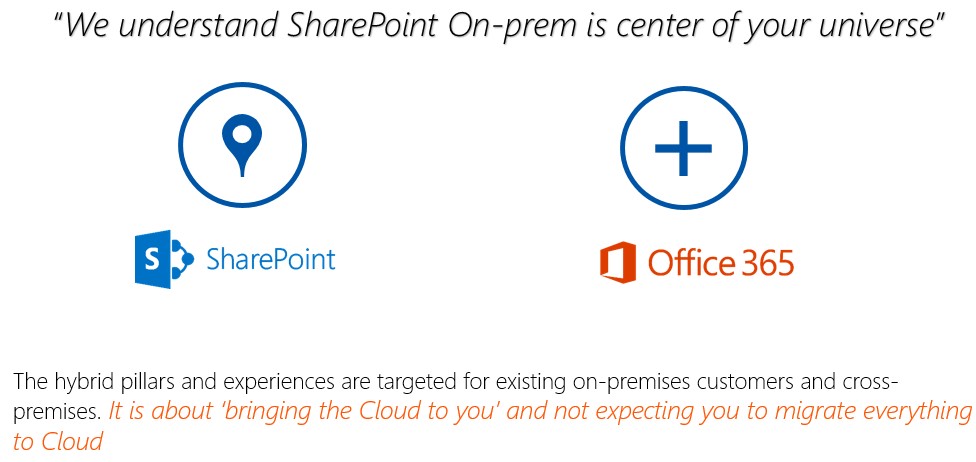 The promise is to allow customers to stay on-premises and at the same time seamlessly leverage cloud innovation through hybrid deployments of SharePoint Server with Office 365. Which means that now the ever-expanding services catalog of Office 365 (with services like Yammer, Delve, OneDrive, NextGen portals etc.) will also be available for SharePoint on-premises users.
Evaluation – The key elements of successful hybrid deployments
Before we go deeper and evaluate Microsoft's claims on future of SharePoint 2016 and Office 365 hybrid deployment, I would like to present my views on establishing the baseline and will list down the key elements of successful hybrid deployments of SharePoint. Subsequently, against this list we will examine SharePoint 2016 and Office 365 hybrid deployment scenarios.
1. Unified user identity management and Seamless authentication
If we talk about the seamless user experience, the first question which comes to mind is that how user will be authenticated across on-premises and cloud and how the user management & authorization will be taken care of.
• Users should be prompted to type their user name and password only once.
• User management should be at single location.
• Single user profile management.
• Single user authorization management.
2. Unified search
• Unified on-premises and cloud indexes.
• Unified search crawl instance.
• Relevancy and deep refiners across the entire result set.
• Ability to search and view the content from within and outside the corporate network.
3. Seamless information architecture
• Seamless site navigation across SharePoint and Office 365.
• Ability to securely and seamlessly access services across platforms.
• Ability to publish content across sites on platform.
• Ability to design and implement custom solutions utilizing resources across platforms.
4. Unified compliance and reporting
• Unified compliance center across on-premises and cloud.
• Unified e-discovery module.
This post is the Part 1 of the multiple part series, in this we tried to understand the evolution of cloud technologies from an enterprise IT perspective and trends in the next generations of cloud deployments. I also present Microsoft's take on the future of cloud technologies in general and SharePoint & Office 365 in particular.
In the next post, I will be examining SharePoint 2016 and Office 365 hybrid deployment scenarios against the parameters defined in this post.
Stay tuned…