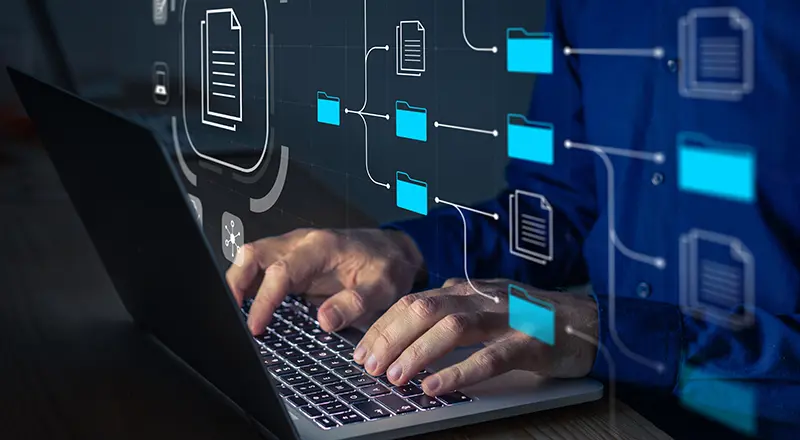 Office 365, the cloud-based subscription service from Microsoft, offers a collaborative experience for all businesses alike. And as businesses realize this benefit, Microsoft continuously aims to increase not only the productivity level but also intends to revolutionize the way you and your colleagues' work. By adding functionality and security, the Microsoft team makes on average 25 updates a month and 300 within a year. Thus, it does not come as a surprise that Office 365 in 2018 will change the face of corporate world by focusing on the new emerging technologies. We shook the crystal ball to look at some of the top predictions of Office 365 services in 2018.
Multi-Geo
Multi-Geo, a feature that is of paramount importance to organizations with global workforces distributed across the planet. Microsoft recently announced the general availability of Multi-Geo Capabilities in Office 365, which allows users to control where data resides per user level, based on their global data location and compliance needs. In a nutshell, it helps multinational organizations address their global data residency requirements.
Increased corporate compliance requirements and guidelines are restricting the free flow of data across borders and require that organizations' data be stored within defined boundaries. Multi-Geo enables a single Office 365 tenant to span across multiple datacenter geographies and gives businesses the ability to store each user's Office 365 data-at-rest for Exchange Online and OneDrive in the chosen geography. With Multi-Geo users can set up data locations before migrating data to Office 365 or if they have existing Office 365 services, data can be moved to preferred data locations.
Microsoft commits to providing in-Geo data residency, business continuity, and disaster recovery for core customer data. It is also working on making Multi-Geo enabled for SharePoint Online and Office 365 Groups soon and is exploring Multi-Geo for other Office 365 workloads.
Continue to read the detailed announcement and demo on Multi-Geo
SharePoint Hub Sites
The task of bringing similar sites together will now be possible by integrating the new SharePoint Hub Sites. Subsites, search, web parts, and may other sites would be brought together automatically into a common centralized interface. Hub Sites will bring together news, activities, and search from various associated sites and display the roll-up on the Hub's home page.
Furthermore, Hub Sites are all about informing, engaging, and connecting various workplaces so users can share, manage, and find the content and apps they need, regardless of the device they are using.
The business workplace is dynamic and ever changing. And, SharePoint Hub Sites helps provide common navigational structure and search across all associated sites. Hub Sites also provide visibility and discoverability for projects and internal campaigns.
Artificial Intelligence (AI) – based Delve
The underdog of Office 365, Delve is the underutilized and underestimated application. Many are still unaware of the applications capabilities. Delve, which is based on the AI-assisted Microsoft Graph, surfaces content and documents based on user's activities. The program is designed to promote document collaboration and facilitate employee interactions.
Delve lets users view their workspace in a different dimension. It not only provides visibility on the people they are most likely to interact with, but also the documents they're handling, projects they are collaborating on, and other relevant information. In a nutshell, Delvemanages the users Office 365 profile, looks at their analytics, and organizes information.
Microsoft Teams
Over the last year, Microsoft Teams has evolved to become the ultimate hub for teamwork. While Microsoft has continued to move Skype for Business features into Microsoft Teams, this year is all about features that will advance intelligent communications.
Cloud recording:A one-click meeting recording option with automatic transcription and timecoding. It will enable team members to read captions, search within the conversation, and playback the meeting.
Inline message translation:A feature that enables people who speak different languages to fluidly communicate with one another by translating posts in channels and chat.
Cortana voice interactions for Teams-enabled devices:Voice integrations within Teams will allow users to make a call, join a meeting, or add other people to a meeting using natural language. This functionality will be available to IP phones and conference room devices.
Background blur on video:An appealing feature that will provide users the ability to blur their background during video calls.
Proximity detection for Teams meetings:A feature that will help users find and add a Skype Room System to any meeting.
Mobile sharing in meetings:A universally useful feature, which will let attendees share live video streams, photos or their mobile screen from their mobile device.
Microsoft Stream
Microsoft Stream is part of Microsoft's ongoing mission to make meetings and conferencing more productive. It is the new intelligent enterprise video service that allows people to securely share, upload, manage and watch videos. It is a platform where users can search and contribute all company videos, as well as, share videos to Office 365 applications such as SharePoint, Yammer, and Microsoft Teams. This also means that every group or team can have their own designated channel.
One of the main features of this platform is Speech-to-text transcribed audio – here, any transcribed audio becomes searchable text. Users can also jump to any point in a video by typing in descriptive keywords. Another feature is linked timecodes. Timecodes linked to text transcripts/table of contents are displayed in the comment section. This allows the viewer to jump to a specific point in the video by simply clicking on a timecode. Lastly, the face detection feature allows viewers to see where each person is shown throughout the video. A timeline is provided which indicates every place a particular person appears in the video.
Enterprises today are experiencing a tremendous growth in electronic content, which is multiplying each year. Because of this growth one of the most common business use cases that enterprises encounter is to ensure that the content is classified, retained, and disposed of in compliance with industry-specific regulations. The costs associated with managing and storing such massive content are high. This includes the cost of retaining unnecessary documents for a long time. And how can we forget the exorbitant costs and the inconvenience caused by a lost document. This cost is even accentuated when a lost document is required by tax authorities or regulatory agencies as an evidence in litigation.
Managing such massive content can be a complex and daunting task. Enterprises need to comply with legal, business, industry, and regulatory requirements. To address this challenge, enterprises are implementing Records Management as part of their overall Enterprise Content Management (ECM) efforts.
What is Records Management?
Records management is an organizational function devoted to the management of information in an organization throughout its life cycle, from the time of creation or inscription to its eventual disposition (Wikipedia). It enables enterprises to identify, store, maintain and manage information or data while meeting strict compliance requirements related to retention, access, and destruction. Adopting a Records Management system helps an enterprise achieve the following key business objectives:
Reduce risk litigation and provide business continuity
2. Enforce corporate compliance procedures without burdening business users
3. Organize, store, and retrieve essential company records securely
4. Store only records that are required for as long as they are required
5. Ensure expired records are destroyed in a timely and legally acceptable manner
Records Management in SharePoint
Records Management is a critical component of an ECM system. SharePoint, which has been deemed an ECM platform, is becoming the preferred choice for enterprises as a Records Management solution. The flexible platform can be used out-of-the-box or customized depending on the needs of the enterprise. Microsoft has been steadily improving each release of SharePoint by focusing on adding more enhanced records management features. The below figure clearly shows how it stacks up against its competitors.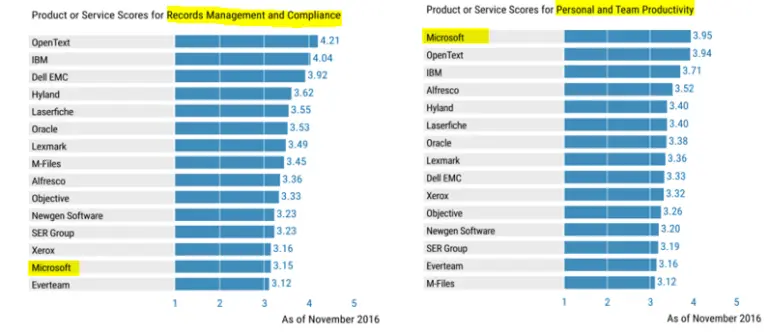 Key Records Management features in SharePoint
As Records Management is becoming increasingly important, let's see some of the key features in SharePoint that help enterprises implement this solution.
Records Center
Records Center is a site designed for records management. It helps record managers to configure the routing table to direct incoming files to specific locations. This site also lets you manage whether records can be deleted or modified after they are added to the repository.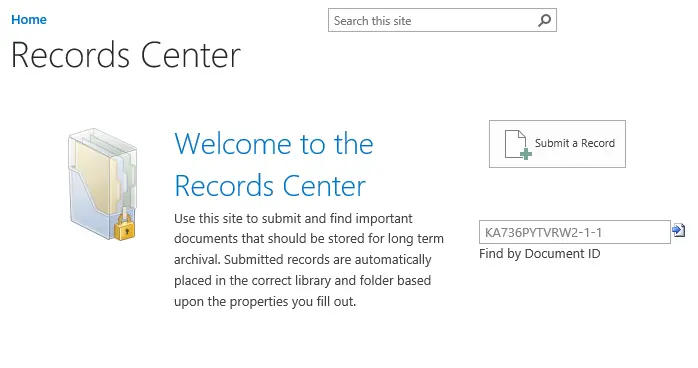 Common Records Management tasks are shown below:
•Create a new record library– Create a new record library to store records. Documents stored here are automatically declared as records
•Manage content and structure– Set up the folder structure and hierarchy that matches with the current content structure
•Create content organizer rules– Manage how and where records are routed and stored
•Discover and hold records– Search for records which should be preserved in a litigation
•Generate a file plan report– Export a file plan report that includes content structure and retention schedules
•Generate an audit report– This report shows history of events that have occurred on records
The Information Management policy settings screen also provides the ability to define Audit Reports for a record.

It also provides an option to enable Retention policies including setting up multiple stages of retention.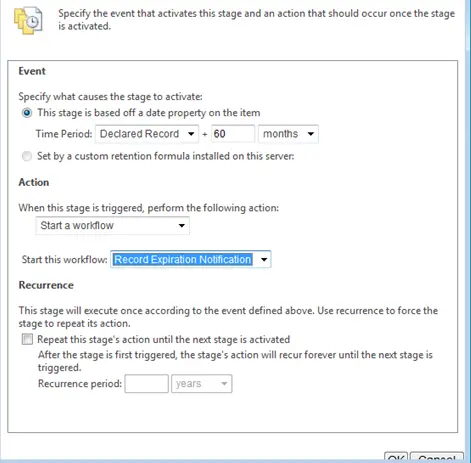 2. In-Place Hold Policy Center
A site used to create and manage Time Based In-place Hold Policies. With Time Based In-place Hold policies, you can preserve items in SharePoint Sites for a fixed period, based on the date an item was created or last modified.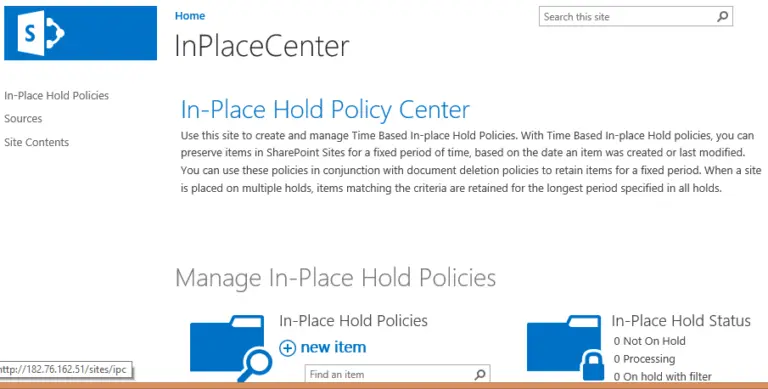 In case of the In-place records management strategy, the documents declared as records are kept in the same context as the active documents. Creators can access their own content and do not have to go to another centralized location or learn about the new file structure. Other advantages include, security does not have to be replicated, workflows do not have to change, and overall it is easy to implement.
3. eDiscovery Center
eDiscovery site allows record managers to lock down content from SharePoint sites, exchange mailboxes, and other sources related to litigation.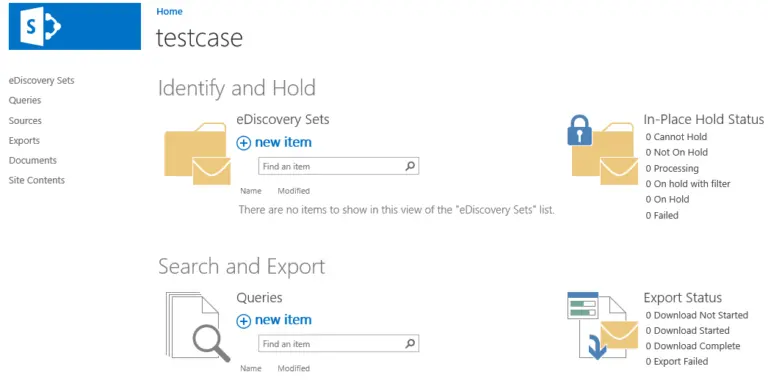 Cases can be created to meet different industry regulations.
For each case, the new eDiscovery feature creates a site which serves as a central place to view and manage all records related to the case/litigation. Users can specify sources for the Discovery Set, including sites, Exchange mailboxes, file shares, and even Lync conversations. Users can also export the discovery set to a network share, team site, or USB. Content may also be exported to the industry standard format, EDRM XML. During an investigation, the entire Discovery Set may be placed on hold. Content placed on hold is exempt from retention policy implementations so that no data is lost over the course of an investigation.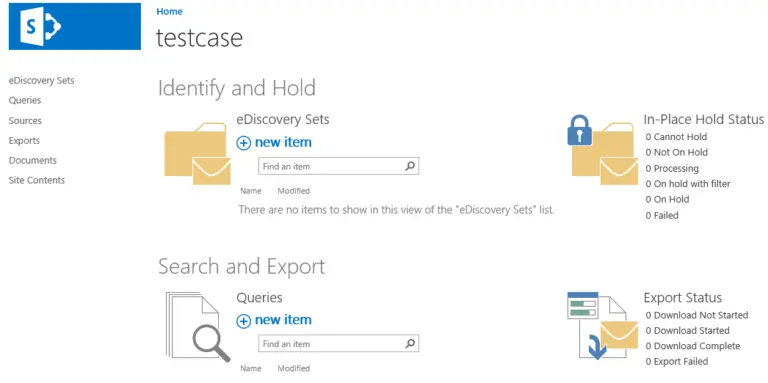 4. Compliance Policy Center
The Compliance Policy Center contains policies that will help you protect the SharePoint content you want and delete the content you don't. After creating a policy, you can assign it to a site collection or template. The Compliance Center allows you to identify and search for sensitive content in both the SharePoint Server and OneDrive documents. This can be done using Data Loss Prevention (DLP) queries.
5. Data Loss Prevention Policy Center
Using DLP policies, regulatory and legal teams can protect the sensitive content in the organization.

For example, the below policy helps ensure sensitive information like credit card numbers.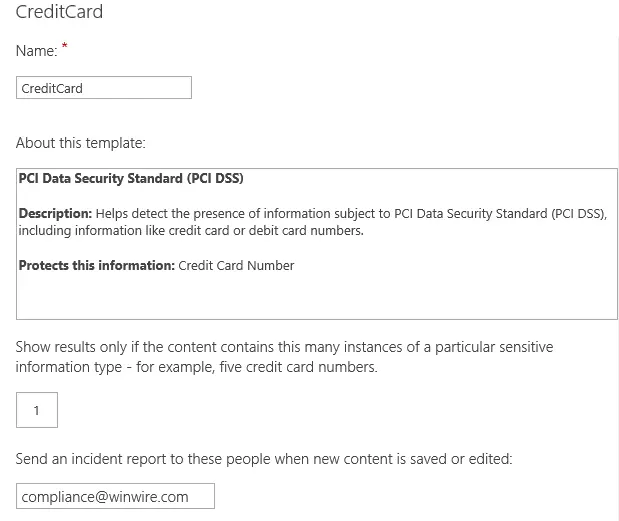 Other policies that can be configured are shown below: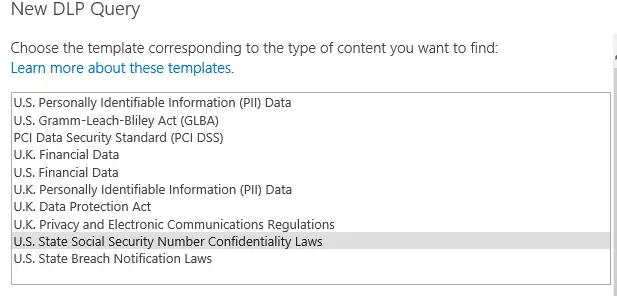 Conclusion
The improvements in recent versions of SharePoint demonstrate that Microsoft is actively planning to make it a viable Records Management solution. Enterprises are now looking at implementing SharePoint as their preferred ECM solution. Improved productivity, lowered costs, and legal compliance are just some of the many reasons that attract them to do so. Many organizations, who did not have strict records management legislation, have deployed SharePoint as a secure content repository loaded with robust features.
We can help you leverage the Records Management capabilities in SharePoint fully and ensure that you are compliant and ready for any unforeseen audits or litigations. For more information, reach out to us at marketing@https://www.winwire.com