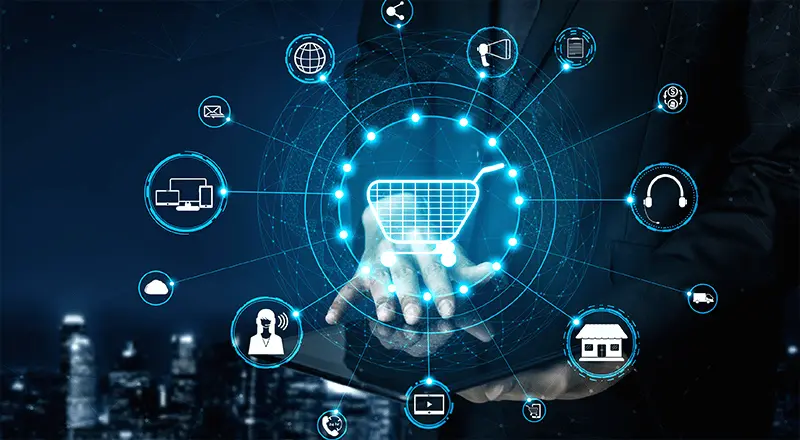 The ongoing COVID-19 pandemic has tested the retail industry thoroughly and in many ways. It brought a major paradox in the consumer sentiments that impacted the whole industry in a way never imagined before.
Initially, foot traffic in U.S. stores fell 58.4% in the third week of March, per ShopperTrak. Then in matter of next few days, the public health crisis-inflicted fear shuttered stores worldwide. Customers shifted from store visits to online ordering from homes to minimize their health concerns. Retailers across the world have pivoted 2-3 times on average in the last 15 months – more than they have in the previous 15 years! To ensure continued growth and relevance in the post-pandemic world, retailers would do well to keep an eye on evolving customer preferences and retail trends. Here are some of the post-COVID retail trends that are likely to disrupt the industry.
The Top 5 Post-COVID Retail Trends
1. In-store Digitization will Increase
As markets are slowly reopening, customers will likely return to retail stores with significantly higher expectations of an in-store experience.
This experience will largely be driven by the extent to which the retail stores thoughtfully integrate technologies such as POS counters, interactive mobile technologies, digitized product displays, real-time inventory information, customer loyalty management and in-store design. Picking the appropriate digitization elements would be important towards delivering a immersive and beneficial customer experience.
2. Contactless Experience will be King
The COVID-19 crisis has accelerated the transition to a digital future. Customer expectations and preferences have undergone a dramatic transformation during this pandemic. Besides ease of product discovery and assortment, customers now prefer touchless buying process.
Mobile input, collaboration, self-service, and platform-based solutions enable them to streamline business processes and respond faster to customer demands. They often dramatically pare the number of forms that must be filled out, which improves productivity. They reduce the time needed to check information and lower the number of errors, so they come more efficient. They offer consumers more options and improve customer satisfaction.
An increasing number of retail brands understand that customers are now wary of the modes of payment that involves any kind of physical contact – cash, inserting a card into a POS terminal, etc.
By 2025, we estimate that the adoption of digital payments could accelerate by 5% to 10% globally.
3. Virtual Store Front will Reimagine the Digital Shopping Experience
The global market for VR and AR in retail will reach USD 1.6 billion by 2025. Once a nice-to-have technology, AR has now emerged as a must-have for retailers.
The coronavirus outbreak has turbocharged experiential shopping experiences with virtual technology to help customers in their buying decisions. The "try-before-you-buy" experiences facilitated by AR/VR applications have quickly become a critical technology for retailers.
With markets now reopening after lockdowns being lifted across most nations, many retails brands are now implementing AR technologies, such as light detection and ranging (LiDAR) and Simultaneous Localization and Mapping (SLAM), both in and out-of-store to replicate the physical shopping experience to increase conversions and reduce returns.
One of the most interesting use cases is that of furniture retailers who can leverage this technology to help customers find the right furniture to fit their apartment's space availability. For example, Ikea launched its Ikea Place ARKit app, which provides a 3D preview of the chosen furniture at the desired spot in their apartments/ commercial spaces to customers. Users can then select furniture items as per their preferences. Watch video to see how Ikea app virtually "place" IKEA products in your space.
4. Voice Commerce Capabilities are Likely to Continue to Thrive
Well before the coronavirus outbreak gripped the world, How We Will Pay Survey revealed that while an increasing share of U.S. households had voice-enabled devices, only 31% used those devices for purchase decisions.
The firm again conducted a similar survey later during the pandemic only to find that it seems likely that consumers will continue to have more interest in using voice-activated devices on commerce much after the pandemic subsides.
A recent tie-up between Google and French grocery chain Carrefourhighlights partnerships between technology providers and retailers to bring innovation to customers. Carrefour and Google declared plans to jointly launch a voice-activated grocery shopping service in France.
Similarly, many hotel properties have now started using voice controls to bring customers back by making them feel more secure than before. Guests, having gotten used to using their voice to control various settings and appliances at home, have started expecting the same when they travel.
5. Localization is Likely to Increase
Covid-19 and various coincidental events such as the blocking of the Suez canal have broken supply chains and made retailers and manufacturers alike rethink the previously golden route of globalization. A secular trend towards hyperlocal products has gain momentum and this can be seen very prominently in retail. The 'local' aisle in grocery chains is spreading.
However, the retail marketers would need to spread awareness among consumers about the benefits of using hyperlocal products over the "Assembled in the <region>" one. Also, there is now a critical need for retail brands to invest in managing a localized digital presence to stay on top-of-the-mind of local consumers. This trend is likely to widen the market separation even further.
Way Forward for Retailers Post COVID-19
The effects of COVID-19 on the industry are profound and unprecedented. In a post-COVID world, retailers need to revamp and recalibrate their strategies to drive technology innovation. The technology will drive revolution for the retail industry, and retailers must invest in tech infrastructure to integrate AI and ML technologies, create new experiences, accelerate business outcomes by reducing physical interaction, and gain consumer trust in a post-COVID world.