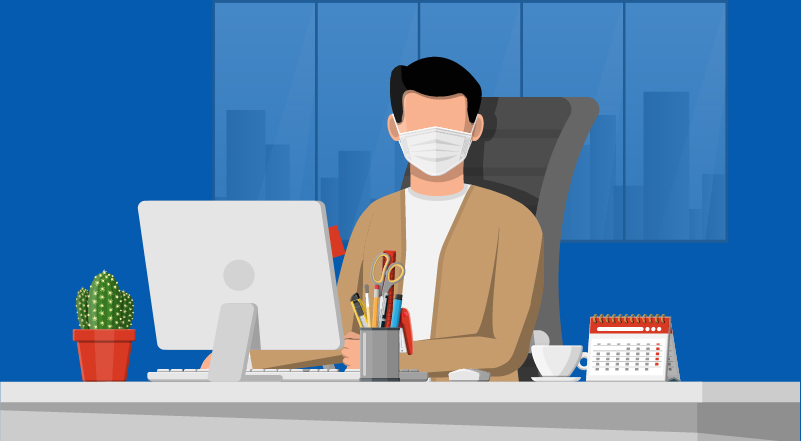 Microsoft Inspire, an annual global partner conference, is an opportunity for partners to connect, reflect on the past year, and look ahead. Microsoft kicked off its all-digital conference on July 21-22. At Microsoft Inspire, we learn about Microsoft's technology road-map, but it also allows partners like us to network, build connections, and come back with ideas, enthusiasm, and new business opportunities.
Here is a quick overview of the announcements made at Microsoft Inspire 2020
1.Get More with Microsoft 365 – Security for Microsoft 365 was the top focus at Inspire 2020. The new security capabilities aim to provide greater visibility around security issues and improved data protection, which is crucial for customers that currently have large numbers of employees working remotely. There is an announcement regarding:
Insider Risk Management and Communication Compliance features for enhanced detection and remediation in Microsoft 365.
Another security capability added is the Double Key Encryption, which will protect critical confidential data and encryption key control.
Universal Print is a new Microsoft 365 service solution announced for customers who need a simple, smooth, secure print experience as they move to the cloud. The service opens opportunities for customers who look to deploy printers without a need for a complex hybrid printing setup.
2. Dynamics 365 and Power Platform will Deliver Critical Digital Needs – Applications including customer voice, connected store, and fraud protection will focus to support customers to pass through the present crisis. At the same time, it also prepares them up for future agility and resilience.
The new account protection and loss prevention capabilities can act against accounts' fraudulent access, creation of fake accounts, and takeover of accounts.
Microsoft has released a pre-built Power Platform solution that will enable customers with location readiness, employee health and safety management, workplace care management, and location management tools to bring employees return to their workplace.  
WinWire's Return to Workplace Solution built on Power Apps is designed to support business in addressing the key challenges related to coordinating a dynamic pandemic response and business recovery effort. The solution is published on Azure Marketplace.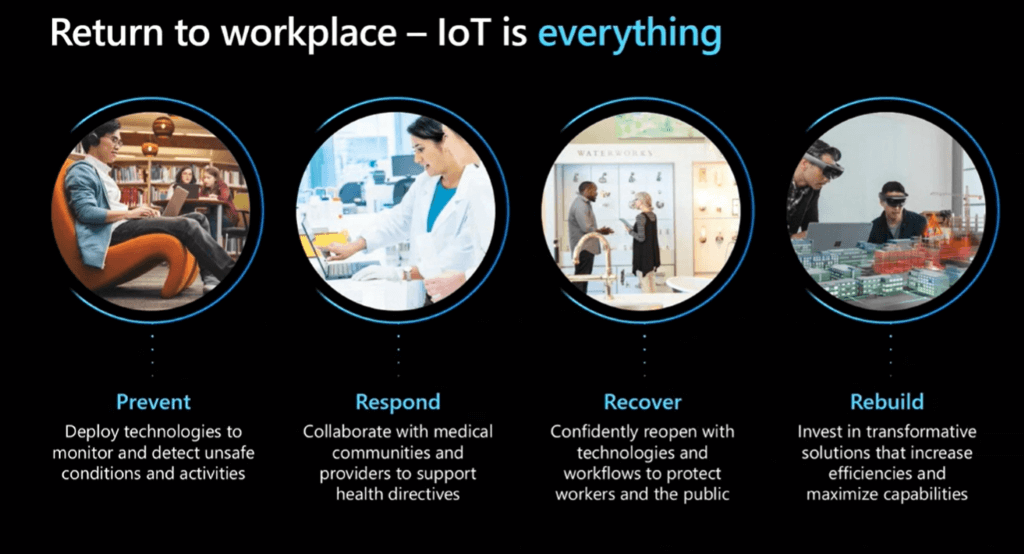 Source : Microsoft
Project Cortex is Microsoft's newest endeavor to transform customers productivity by connecting people with knowledge and insights. It will go for existing private preview on August 1, 2020 and you can expect additional details about its availability by Microsoft Ignite 2020.
3. Microsoft Teams Enabling Business Process Transformation– Microsoft seen the use of its Teams rise amid the COVID-19 outbreak and has added new ways to manage Teams Rooms video conferencing devices, a move that will help businesses connect office staffers.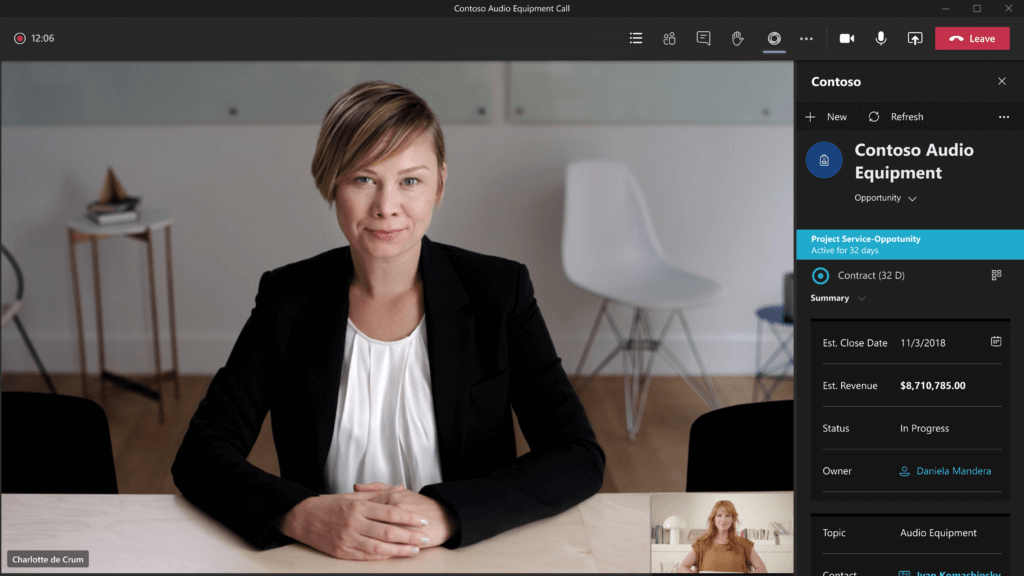 Source: Microsoft
There is an enhancement to the Power Platform experience in Microsoft Teams, making it easier to create, deploy and manage apps without leaving Teams. a. There is an enhancement to the Power Platform experience in Microsoft Teams, making it easier to create, deploy and manage apps without leaving Teams.
Apps and Bots built with Power Apps, Power Virtual Agents can now access data through the new Microsoft Dataflex – a relational database now built into Teams. Dataflex will bring together the rapid application development capabilities of Power Apps so anyone can create an intelligent app right inside of Teams. With these important announcements, Teams apart from being the hub for collaboration will also be an enabler for business process transformation.
The developers and ISVs will now be able to integrate their apps and services with Teams meetings, giving users more options to host interactive and engaging sessions. There will also be new device management and monitoring options for Microsoft Teams Rooms Standard and Premium to deliver high-quality calling and meeting experiences for customers.
The new capabilities in Teams will help the workforce connect and engage with information during the meeting effortlessly with the integration of PowerBI with Teams. Teams will provide several options for integrating popular services into tabs. One of these is a Power BI report tab. You can add a report from any workspace, and this will make Teams even more powerful tool.
Launch of Together mode leverages AI to digitally place participants on a video call together in a virtual space, so they look like they are in the same place together.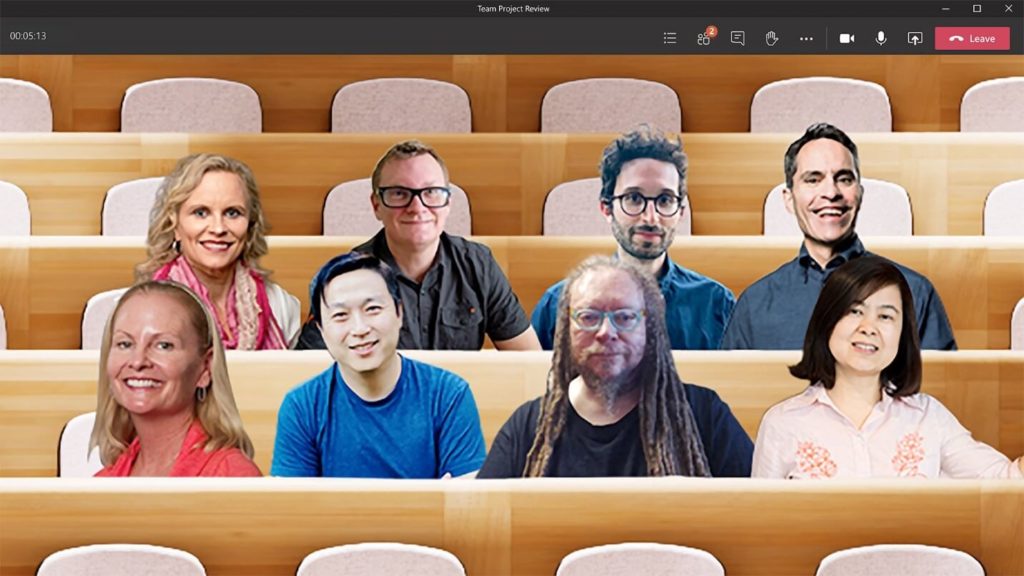 Source: Microsoft
4. Azure Continues to Transform Customers Journey to the Cloud
Azure Stack HCI, the latest in Microsoft's hybrid portfolio and now in public preview, will bring hybrid capabilities to customers' data centers while enabling them to leverage existing skills and investments. As customers are increasingly moving their workloads to the cloud to optimize cost, increase efficiency and innovate, Microsoft, through this announcement, offers them more choice and the best solutions for their hybrid needs.
To accelerate your customer's digital transformation journey on Azure, Microsoft announces a new Well-Architected Framework (WAF) to provide actionable and simple-to-use technical guidance, resources, and best practices the overall quality and to manage workloads.
An enhancement in Azure Migrate will enable customers to respond to changing conditions, provide more productive data center assessments rapidly, allow server migrations, and add modernization for containerizing applications.
There are also enhancements in Azure Lighthouse, which was announced during Microsoft Inspire in 2019. Azure Lighthouse brings in multi-factor authentication and Privileged Identity Management support to its partners.
Road-map ahead for 2020-21
Microsoft's partner ecosystem has delivered transformative solutions for customers. But in the past year, and especially in the past few months, partners resilience and technology innovation has dramatically changed the world and possess the unlimited potential to achieve more in the road ahead by:
Bridging the digital and physical world
Remote work
Fusion Teams
Hyper Automation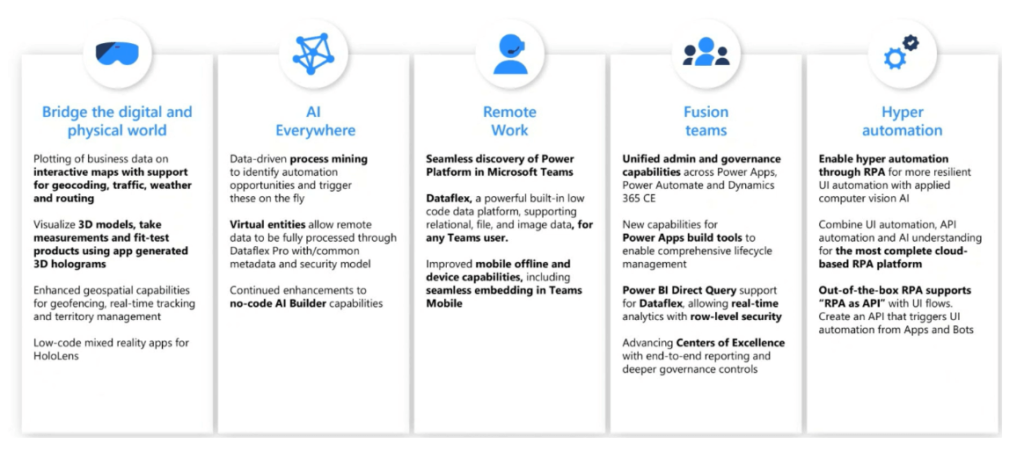 Source: Microsoft
Collaborate with WinWire
The excitement of the all-digital Microsoft Inspire conference was substantial. It can be attributed to Microsoft's transformative and intertwining technology focus areas that offer "a tremendous opportunity in Microsoft 365, Azure, Dynamics 365, and the Power Platform.
WinWire is experiencing a pressing need from its customers for digital transformation amid COVID-19. Technology plays a vital role in helping customers find resilience and reimagination to navigate these trying times.
Customers can primarily benefit from the latest announcements from Microsoft to create business continuity and transformation. To maximize the benefits of the newest technology innovations announced, it requires the help of experts. WinWire is a global technology and consulting company helping customers adapt to a dramatically changing environment, drive growth, and competitive advantage. Talk to us today to learn how we can help your organization.