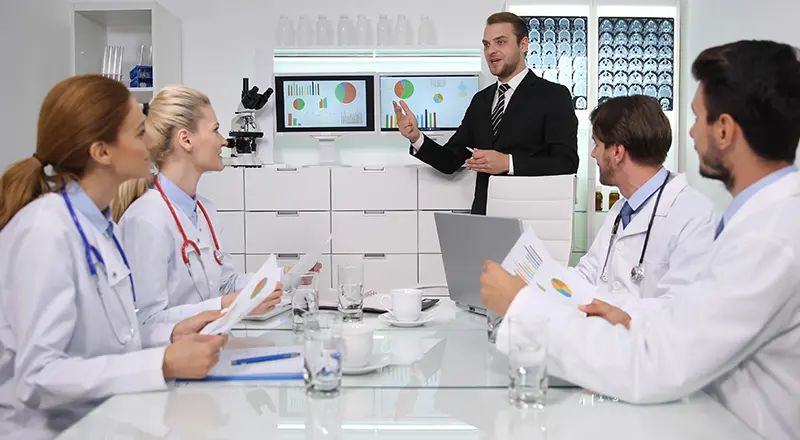 The much-awaited COVID-19 vaccine is finally here. AstraZeneca, Moderna, Pfizer all have started major distribution channels after getting FDA/government approvals. As the world takes a deep breath and waits for the vaccine, governments, and providers are faced with the critical challenges of its procurement, distribution, and management. The common goal here is to ensure that there is a fair and equitable distribution of the vaccine while accelerating its rollout. Having reached hospitals and health professionals, planning phased scheduling, and maintaining proper immunization effectiveness data will be essential tasks. State, local governments, providers and long-term health care provider communities are looking for a vaccine management solution that will enable them to deploy quickly and continuously adapt as and when CDC guidelines evolve.
WinWire's COVID-19 Vaccine Management Solution
WinWire, a Microsoft Managed Partner, is delighted to announce the COVID-19 Vaccine Management solution. The solution covers a large continuum of vaccine management that includes citizen registration, vaccine administration, demand forecasting, adverse reaction tracking and reporting, integrating it with existing immunization records, fair allocation and prioritization, monitoring, and so on. Also, it automates backend supply-chain clinical processes, & enables patient service quality improvement using secure care data. The Vaccine Management Solution is offered to two types of personas – one for citizens (e.g., HealthCare Professionals, Senior Citizens) and the other for healthcare provider administrators. Here is a look at what the solution offers through each persona and its overall features, offerings, and compliances.
For citizens
The vaccine management system operates as learning, planning, and following-up tool. Through a user-friendly mobile interface, it guides citizens about vaccination. It allows them to plan their hospital visits, enter virtual queues, and maintain a calendar of schedules and follow-ups. Citizens would include first and foremost, Healthcare workers, High Risk Patients, and Senior Citizens. All other citizens would also avail of this self-service application to ensure consistent distribution/tracking.
For healthcare providers
It acts as a Vaccine Command Center tool for managing queues, follow-ups, state registry, and inventory checks. It automates clinical processes and aids improvement in the quality of patient care and service through secure historical data. It augments human call-based patient support systems and reduces the contact center overload to provide economies of scale. It will enable providers to manage patient queries and concerns and make patient engagement flow smoother, prioritizing healthcare workers/professionals and other frontline individuals. It also amalgamates different tools such as RxNorm and WinWire's Knowledge Mining Solution to offer enhanced patient care and experience.
WinWire's COVID-19 Vaccine Management solution offers a five-pronged methodology to support organizations create a healthier tomorrow.
Tracking: It is designed to be deployed quickly and tracks resident's vaccination journey, from registration to fixing an appointment to final vaccine administration and symptom follow-ups (if any). Provide complete traceability and effective monitoring throughout the patient vaccination journey.
Reporting: Analyzes public health data to fulfil the greater objectives of creating equitable vaccine distribution plans. It defines and redefines high-priority populations, allocates vaccine supply, monitors population engagement and dosage regimen adherence, and provides logistics analytics and effectiveness and safety pattern analysis.
Education and Vaccine Program Engagement: The solution is well-equipped to handle surged call volumes using virtual agents and addresses FAQs, automated SMS and email to drive community engagement, conduct eligibility screening, and carry out health surveys.
Supply Management: The solution support vaccine ordering, inventory management and demand forecasting to meet the demand through a systematic approach.
Support: Consulting support to assist with the CDC and IISs recommended guidelines and vaccine implementation based on it.
Integration and Compliance
This Vaccine Management Solution built on Microsoft Azure and Healthcare Platform can be integrated with several existing solutions – including your state's Immunization Information System (IIS) and your local EMR system (e.g., EPIC).
It utilizes industry standards, such as Fast Healthcare Interoperability Resources (FHIR) and open APIs to ensure secure data exchange which is HL7 compliant. It offers easy integration with (Electronic Medical Records) EMR solutions. It also integrates with Microsoft Cloud that can help support compliance with applicable laws, such as HIPAA.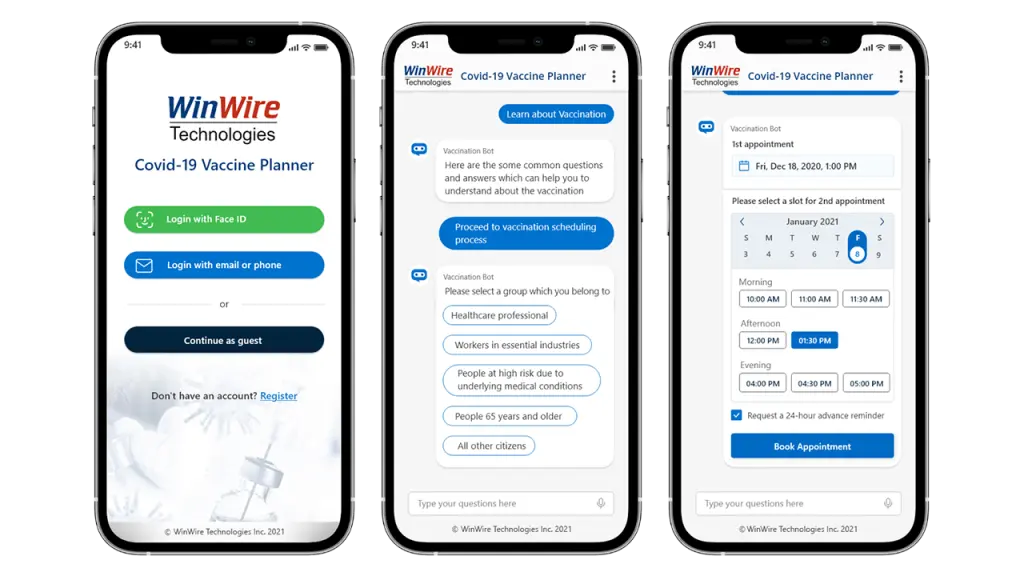 Easy integration will enable two-way data flow to manage vaccine inventory, provider agreements, administration data, and patient health information. It is built in a way that it supports several other WinWire solutions, including – Virtual Queue, which is a cloud-based solution enabling effectively manage patient flow and minimizing physical queue; and Knowledge Mining Solution that helps you analyze large volumes of data to uncover hidden insights and find relationships and patterns at scale.
The solution is available on Microsoft's Azure Marketplace.
Simplification of the COVID-19 Vaccination Process with WinWire
The solution will enable healthcare workers/stakeholders to get a meticulous view of their efforts on the state level as it will effortlessly integrate data from Cloud and external data across EMR/EHRs, state-specific IISs, and CDC portals. Power BI will then be used to analyze that data through interactive visualizations to track and report population health outcomes.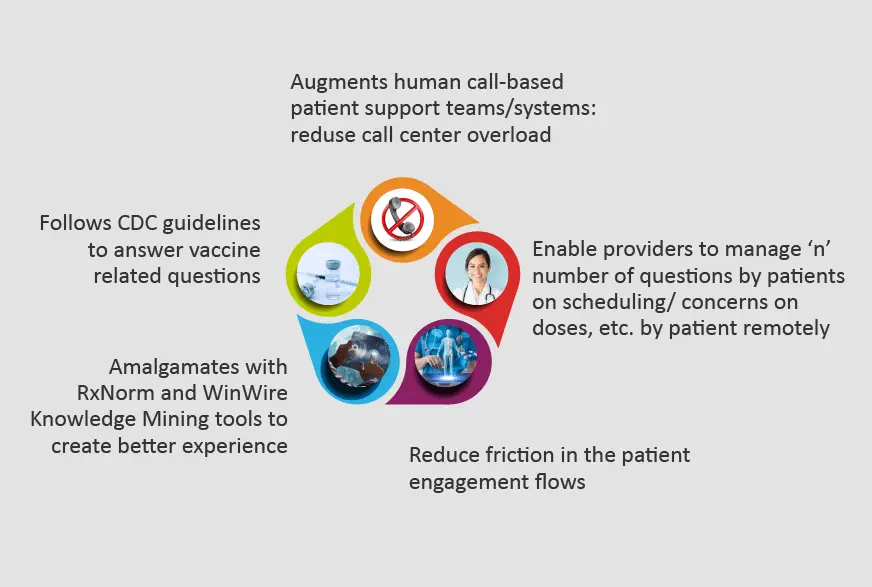 In conclusion, ease of clinical deployment and speed is of essence at this stage of the dissemination of vaccines across the world. WinWire aims to help improve the delivery and efficient mechanisms of the vaccination process leveraging Power Automate, Bots, FHIR connectors, Azure messaging services and frictionless intentional customer experiences. The differentiators focused on are:
Speed: Re-purposing existing production ready Bot framework for Covid-19 Return to Work solution
Time saving: The UX and conversation interface is focused on reducing workload of administrators and allow them to focus more on vaccination & planning activities
Automating: It focuses on reducing call volume and on automating the supply chain workflows for the Administrators.
Cognitive Search: It hooks up to our Knowledge Mining solution for cognitive search and RxNorm mapping to aid clinicians further.
As we adapt with market forces, we are putting in some additional smarts here which helps the clinicians and administrators to do more leveraging backend automations and FHIR interoperability.
Contact us to learn how WinWire's Vaccine Management system can help you deliver COVID-19 vaccination program safely and rapidly.