I am excited to share that WinWire has won Microsoft AI ML Workathon 2021. The solution we created for the Workathon is an Azure-enabled WinVision AI Animal Health solution.
Healthcare organizations are increasingly focusing on the availability of data to make informed decisions and in the process to make a difference to the world. This is the underlying concept behind WinWire's winning Automated Animal Health Intelligence solution. The Vision AI/ML driven solution that displays compassion and inclusivity to the animal world was declared a winner at the Microsoft's AI ML Workathon 2021, an exclusive event for 80+ Microsoft Partners across Services, ISV, ITeS, and 100+ teams recruited from all over India.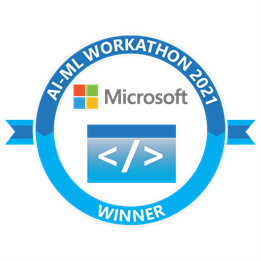 The judges chose our WinVision AI Animal Health Solution. It brings together data connectors, pre-trained AI models, and a best-of-breed implementation of Azure Synapse, Cognitive AI that allows analyzing herd behavior to enable livestock farmers to decrease the rate of unanticipated cattle and poultry losses, reduce the spread of livestock disease, potentially impacting humans, and stabilize protein production for the rapidly expanding human population.
The Need for AI in Cattle & Poultry Healthcare Management
In the livestock industry, maintaining the health of cows is critical to ensure their ability to breed and produce milk and similarly poultry animals for protein supplies. USDA surveys indicate that cow farmers lose 1.5% of their herd annually due to unanticipated deaths many of them caused by bovine respiratory disease. The National Center for Biotechnology Information (NCBI) has found that Bovine respiratory disease is the principal source of economic loss for the North American livestock industry.
The traditional solution to this problem is to use CT and ultrasound scans to capture videos of cow lungs to identify any malformations or negative prognostic risk factors. Veterinary professionals must then manually review each video. This is a problem, as each video is between 20 and 40 minutes long.
WinWire's WinVision AI Health Solution
As the digital revolution continues to evolve with AI and Machine Learning (ML) leading the revolution, technology becomes a change agent in the way we see, understand, and prevent healthcare issues. As a technology leader in animal healthcare consulting, WinWire decided to immerse itself in the problem and find a solution that would save the lives of millions of cattle and poultry.
WinWire created an automated Animal Health Solution prototypes for two pharma clients using Azure Machine Learning and Data Analytics. The team at WinWire applied Azure data storage & analytics, machine learning, and Computer Vision AI technology to scan CT and ultrasound videos and intestinal images to automatically identify common health risk indicators and anomaly detection. When predetermined risk factors are identified, veterinarians and farmers are immediately notified so that they can review the relevant footage and take appropriate action. In any case, the solution uses reinforced learning techniques to improve prediction models and suggest better recommendations for Next Best Action (Decision AI).
This solution is poised to have a significant effect on the livestock industry by enabling livestock farmers to dramatically reduce the rate of unanticipated cattle and poultry deaths that occur, resulting in massive economic gains. Take giant steps forward in ethical animal care by preventing unnecessary animal death, reducing its environmental impact, and halting livestock disease spread that could potentially impact humans (e.g., Zoonotic diseases like bird flu and swine flu).
Highlights of WinVision AI Animal Health Solution
Enables livestock farmers to dramatically reduce the rate of unanticipated cattle and poultry losses that occur, resulting in massive economic gains.
Reduce the time it takes vets to search within the CT and ultrasound videos by eliminating manual intervention. The result is a more thorough and accurate veterinary diagnosis, as well as cost reductions for farmers, with a smaller portion of their livestock needing evaluation and diagnosis from vets.
Self-service features improve user experience, reduce farmer and vet burnout, technician overloads, and delays in sending staff out to the field. These self-service solutions are near real-time and provide back analysis and alerts reducing turnaround time.
Reduce zoonotic disease that has an impact on human health and disease spread as well.
The Wrap Up
WinWire plans to expand WinVision AI into a comprehensive, Azure-enabled Animal health intelligence and decisioning platform. The IoT-enabled solution uses sensors to gather data on carbon dioxide presence, feed and water consumption, atmospheric shifts, and changes in animal weight. When combined with computer vision and audio, the platform will consolidate data from video, audio, and physical sensor data sources and analyze herd behavior to detect illness, manage nutrition, improve breeding, and ultimately deliver better predictive analytics & relevant smart recommendations.
Contact us to learn more about our WinVision AI Animal Health Solution.