Over the years, people go for medical checkups resulting in generic medical records, and some investigatory tests such as x-rays and scans stored as images. People also suffer from different illnesses, undergone surgeries which would have been treated through procedures and treatments. These medical records could be stored in different formats elsewhere. Health records of individuals are dynamic in nature, accumulating steadily over the years. When clinical examiners, physicians, or data analysts want to access a patient's historic health information, a challenge arises. Data is often stored in various formats across different data systems. Since most health systems don't speak the same language, extracting data files and unifying them can take a long time rendering it useless. To simplify, a patient's medical record would contain various elements. To classify, the patient's personal data, attributes, medications, and diagnosis may be stored in EHR databases. The same patient's radiology reports and CT scans stored as unstructured data in DICOM format elsewhere. Depending on the age and illnesses a single patient could have several different data points stored in various systems. Integrating all this data, to form a unified chronological data output is difficult to say the least.
Illuminating Insights into Patient Health
Fast Healthcare Interoperability Resource (FHIR) as a new standard in healthcare data management, aims to reduce the disadvantages of disparate data sources and unify it to produce coherent results. Created by the Health Level Seven International (HL7) health-care standards organization, FHIR incorporates data using API technology and HTTP-based protocols to represent the same. For healthcare organizations, FHIR is a miracle in patient care providing all the necessary information easily. However, implementing FHIR requires next-generation applications that can consolidate data and present it meaningfully and securely.
Azure Healthcare APIs
With a history of providing meaningful solutions to complex challenges, Microsoft Cloud for Healthcare recently announced the Azure Healthcare APIs which adheres to the FHIR format in terms of data gathering, consolidation, management, and presentation. Azure Healthcare APIs is the "evolved version" of Azure API for FHIR. This next-generation solution empowers the presentation of a patient's medical records in real-time in a consistent manner while adhering to health data standards.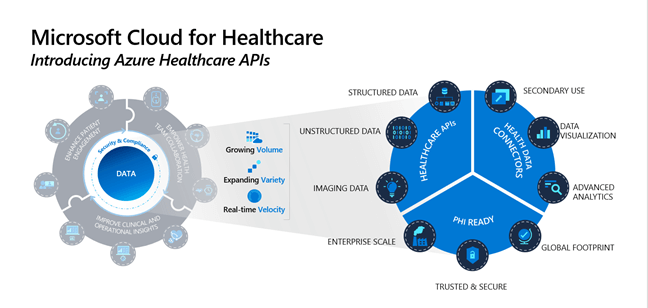 Source: Microsoft
Highlights of Microsoft Azure Healthcare APIs
Structured inputs such as clinical records and data from medical devices such as Google Fit accessed, transformed, and mapped to FHIR.
Unstructured data from clinical notes or doctor prescriptions can also be mapped to NLP algorithms and presented alongside structured data.
Image files stored in DICOM formats using API gateways can be extracted and mapped to a patient's historic data in FHIR.
Biometric data from devices using Azure IoT Connector for FHIR provides intelligence accrued from data to help with future care and treatments.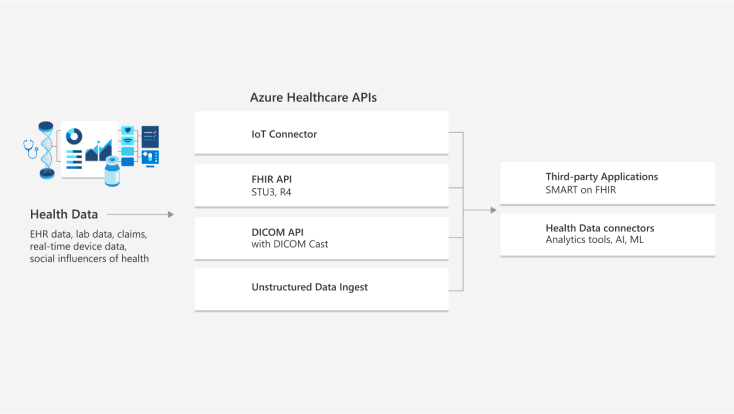 Source: Microsoft
Business Benefits of Microsoft Azure Healthcare APIs
Healthcare organizations are drowning in data that when garnered can help to provide useful information to improve patients' services, bring down costs and lead to innovative treatments. For example, intelligence derived from patients' health trends can provide insights into disease management. For example, take a sample group of patients, falling within the same gender, age group with diabetes and related symptoms along with lifestyle habits. Insights into this data can provide some illuminating real-life data into what is working in actual diabetes management. This kind of service will be the future of medical care and with Microsoft Azure Healthcare it can be a part of the present.
Adhering to quality standards such as FHIR are important to validate an organization's credibility. With Microsoft Azure Healthcare – Azure API Management, an enterprise not only adheres to quality standards but ensures data manageability and provides insights that can result in cost benefits through time saved in data management.
Enhances patient engagement and ensures better medical treatment. Physicians can access all relevant data including historical information to decide on the best courses of treatment. For healthcare enterprises, committed to patient care, Azure Healthcare is a real partner.
For CTOs the Azure Healthcare APIs is a futuristic innovation that simplifies data management and reduces the burden on the internal data analyst team. The team can spend more time in analyzing data for intelligence rather than consolidating and compiling information. For CTOs these analysis and intelligence paves the way for their healthcare enterprise's business transformation.
Microsoft Azure Healthcare APIs – Transformation of Healthcare for Patients
A sick person wants healthcare not additional duties with searching for past medical records stored in multiple EHRS and various formats. Today, with Azure Healthcare Management, a patient can walk into a physician's clinic and know that the physician can access all his or her data in real-time and provide the necessary medical care without any delay.
Health-conscious individuals can track their medical and fitness regimes and see how it is impacting their health as unified records are presented in a uniform manner.
Confidence in the treatment received as the patient knows that the medical care giver is aware of all the health issues that the patient has suffered from over the years.
Azure Healthcare APIs Pricing
Azure Healthcare APIs, a PaaS service, is a new version of the Azure API for FHIR. It allows enterprises to upload, store, manage and analyze their healthcare data in Fast Healthcare Interoperability Resources (FHIR) and Digital Imaging and Communications in Medicine (DICOM). Learn more about Azure Healthcare API pricing.
Why WinWire?
To summarize Azure Healthcare APIs is the future of healthcare management and is a necessity for any healthcare enterprise that wants to remain cost effective, with operational efficiency in a highly competitive market. However, to implement Azure Healthcare APIs into your system requires the help of a trusted partner that knows Azure as well as Microsoft itself.
WinWire has been awarded as a Finalist in the Global Microsoft Partner of the Year Recognition for 2021.
These awards are affirmations of WinWire's commitment to ensure standardized, secure, smooth and cost-effective technology and business transformations for its customers across industry segments and specifically in the healthcare field.
As a proud gold partner for Microsoft Azure Cloud Platform, WinWire has enabled several enterprises make a smooth and swift cloud transition. The team develops your cloud roadmap that helps manage complex systems and applications within a single system of intelligence. From consulting services to implementation and support, we are with you at every step of your cloud lifecycle. Let's connect and discuss how Azure Healthcare APIs is transforming healthcare industry.