Have you experienced an escalation issue or sent a response to the client's mail indicating "You have not installed it correctly" or "Your hardware is not configured properly?
As IT professionals we often encounter support tickets for applications that are:
• Sluggish
• Fail to install
• Randomly stop working
The Conflict between software development teams and IT operations is not new to us.
Even when an application initially at the time of deployment would work well, later, the configuration changes made to the production environment could create a conflict.
Keeping objects consistent across dev, test, and production
To resolve this issues, we need to ensure that we maintain consistency between the DevTest and Production environments. And this we can do is by creating a template that defines the environment. This template is then deployed along with the application to ensure consistency.
What is Azure Resource Manager (ARM)?
The Azure Resource Manager stack, just like its predecessor, supports imperative operations, but what is exciting is, it also provides a new way of deploying artifacts in a declarative fashion through a template, using JSON object notation, also using a special language.
An Azure Resource Manager template is written in JSON (JavaScript Object Notation) which is a similar concept to XML. It is a JavaScript Object Notation (JSON) file that defines one or more resources to deploy to a resource group. It also defines the dependencies between the deployed resources.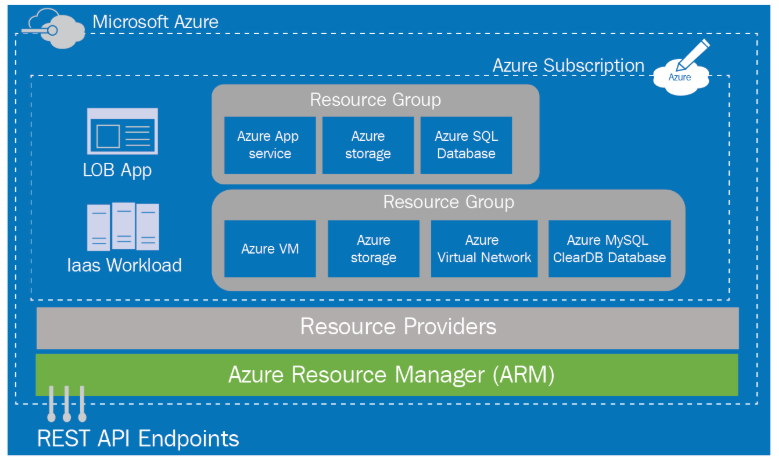 Azure Resource Manager – Benefits

• Prevent deletion/modification of resources using resources Locks
• Role-Based Access Control (RBAC) is natively integrated
• Deploy, manage, and monitor all of the resources
• Declarative templates
• View rolled-up costs for the entire group or for a group of resources
• Enables to group & manage multiple resources as a single logical group
• Repeatedly deploy solutions, throughout the development lifecycle 8 Set sequence of deployment by defining dependencies.
Azure Resource Manager: The Secret ingredient of the Microsoft Cloud Strategy
Since its inception in 2009, Microsoft Azure has gone through a significant transformation. What began as a hardcore set of platform services is now a force to be evaluated within the infrastructure market as well.
According to Gartner, Microsoft Azure is inching closer to Amazon Cloud Dominance, firmly securing its place in the top right section of the Infrastructure-as-a-Service (IaaS) Magic Quadrant. And one technology that has accelerated Microsoft's infrastructure services is Azure Resource Manager, which has become the cornerstone of Microsoft cloud platform and needless to say that it's gearing up to play a key role in Azure Stack.
Isn't it amazing to witness how a wonderful thing comes up in such a short period of time and occupies such a key place?
Watch the recording of our webinar on Azure Resource Manager to elevate your insights.