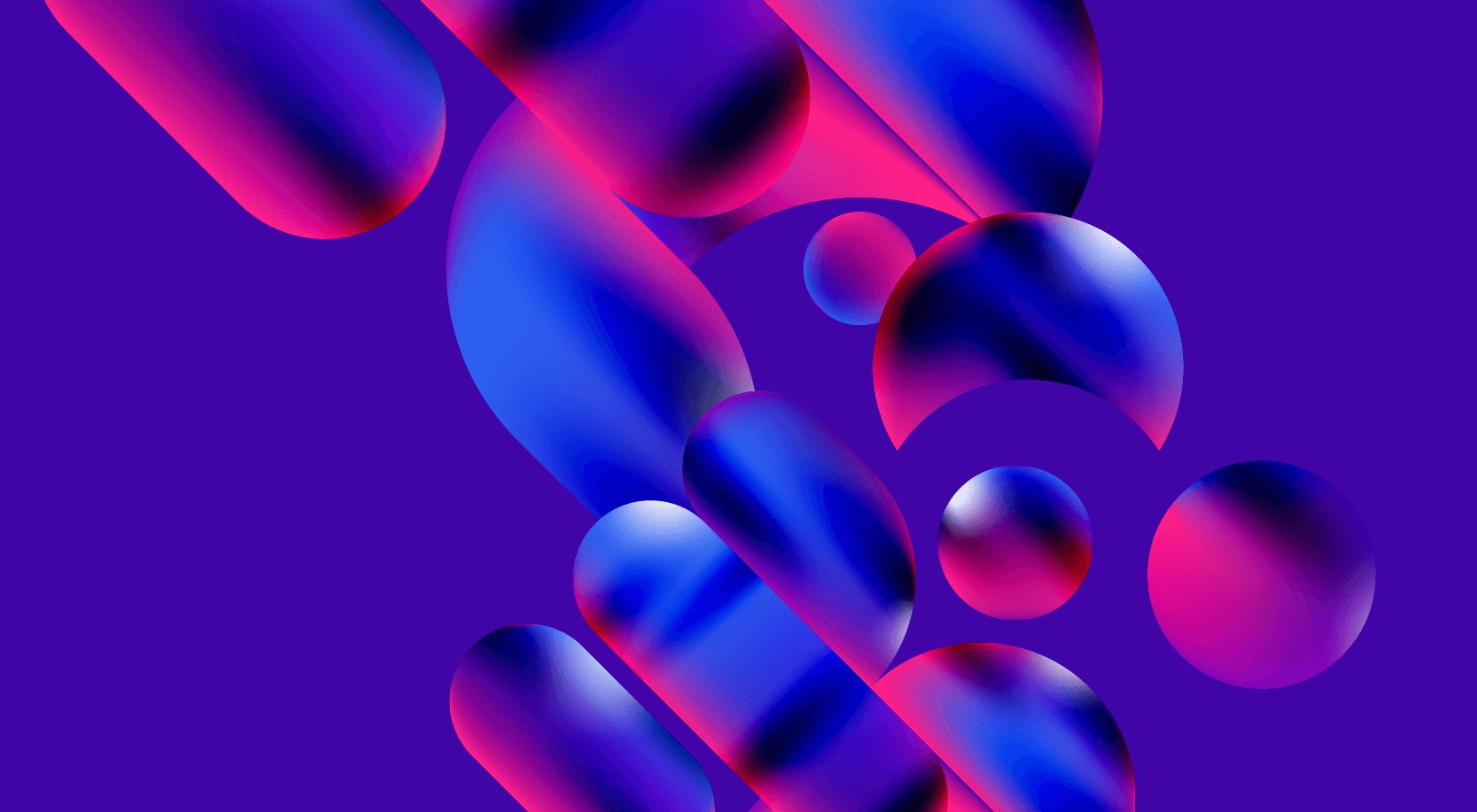 WinWire is always here to give you timely highlights of Microsoft events. This time it was Microsoft Ignite 2023; a showcase of the advances being developed to help customers, partners and developers achieve the total value of Microsoft's technology and reshape the way work is done!
They were over 100 announcements related to Windows, Microsoft 365, and Azure that will impact businesses this time at Ignite 2023. Here is a recap of some of the most important news.
Reinforced Data and AI Connection
AI is only as good as the data that fuels it. That's why Microsoft is committed to creating an integrated, simplified experience to your data with AI tools.
Microsoft Fabric is part of that solution. Available now, Microsoft Fabric reshapes how teams work with data by bringing everyone together on a single, AI-powered platform that unifies all those data estates on an enterprise-grade data foundation. Copilot in Microsoft Fabric also integrates with Microsoft Office and Teams to foster a data culture to scale the power of data value creation throughout the organization.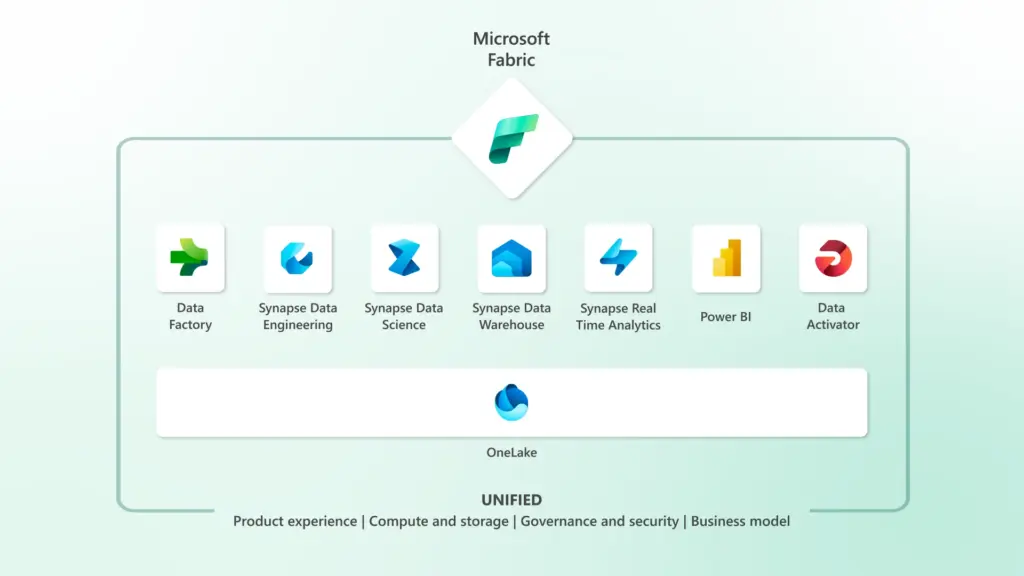 Source: Microsoft
This means, Microsoft Fabric can empower you in ways that weren't possible before with a unified data platform. This means you can bring AI directly to your data, no matter where it lives. This helps foster an AI-centered culture to scale the power of your data value creation so you can spend more time innovating and less time integrating.
Join our exclusive webinar to learn how you leverage Fabric to power real-time analytics.
Introduction of Azure AI Platform
Azure AI Studio – Announced a public preview of Azure AI Studio, a state-of-the-art platform that simplifies generative AI application and copilot development. It is an exciting step forward towards our vision for a cohesive, user-friendly AI environment, where every ingredient a developer needs, from the newest models to data management systems, is integrated and available.
General Availability of Prompt Flow – Prompt flow is now generally available in Azure Machine Learning and in public preview in Azure AI Studio, is a tool designed for LLMOps at enterprise scale. It supports version-control and collaboration through any source code management tool.
Public Preview of Model Benchmarks – The model benchmarks feature, now in public preview in Azure Machine Learning and Azure AI Studio, provides a vital tool for evaluating and comparing the performance of various foundation models.
OneLake is now available in preview as a datastore in Azure Machine Learning, facilitating a seamless transition between Microsoft Fabric and Azure Machine Learning.
Azure OpenAI Service has unveiled several multimodal AI capabilities to empower businesses to build generative AI experiences with image, text, and video.
Copilot Expansion
Copilot will be added to the Microsoft 365 F3 license users starting in December and will be available for no extra cost. The product will also include commercial data protection, enabling frontline workers to make intelligent requests.
Bringing Copilot to everyone – Microsoft wants to simplify the user experience and make Copilot more accessible to everyone starts with Bing, our leading experience for the web. Bing Chat and Bing Chat Enterprise will now simply become Copilot. With these changes, when signed in with a Microsoft Entra ID, customers using Copilot in Bing, Edge and Windows will receive the benefit of commercial data protection.
There is also an introduction of Microsoft Copilot Studio—create and customize copilots with an intuitive design studio, generative AI, and built-in analytics.
New Features for Azure SQL
Every organization is eager to save time and money as they transform. Microsoft announced several new features and updates for Azure SQL that make Azure the ideal and most cost-effective place for your data. Updates include lower pricing for Azure SQL Database Hyperscale compute, Azure SQL Managed Instance free trial offer, and a wave of other new features.
Microsoft Teams
3D Teams Meeting a Reality
Microsoft is turning immersive 3D Teams meetings into reality by integrating Microsoft Mesh into Teams. This integration, set for January 2024 will allow co-workers to meet in virtual spaces without the need for VR headsets.
Merging to-dos, tasks, projects, and plans into Planner for one unified collaborative experience.
Announced the merging of to-dos, tasks, projects, and plans into Planner for one unified collaborative experience. The planner app in Microsoft Teams will be updated with these newly merged features in the spring of 2024, with web functionality scheduled to be added later in 2024.
Microsoft Teams gets an AI-powered home decorator and voice isolation.
Microsoft Teams' new "decorate your background" feature means you might never have to clean your messy home office again. The video call feature can look at your room and clean up clutter and add plants or even decorations to your background.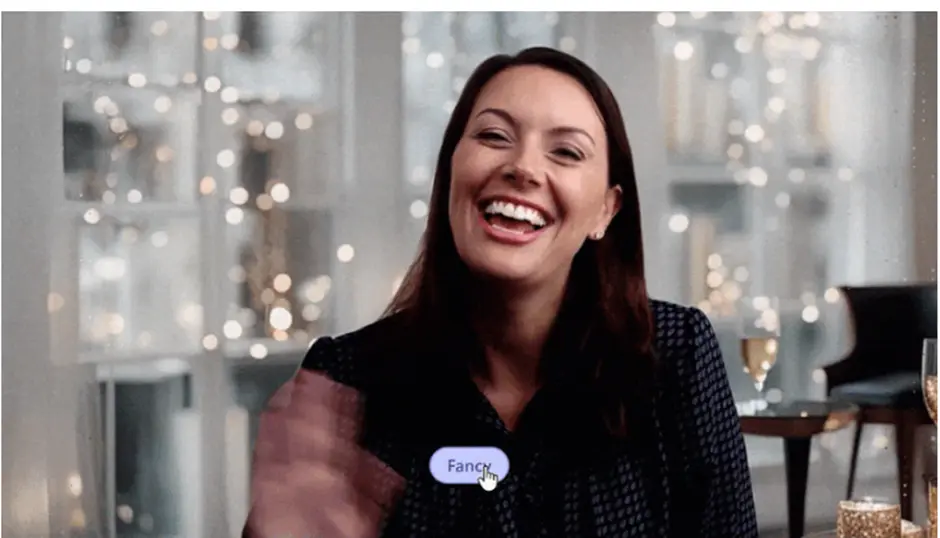 Source: Microsoft
The voice isolation feature is rolling out now and will be generally available in early 2024, while "decorate your background" will be available early next year in Teams Premium.
Strengthening Security in the Era of AI
The threat landscape has evolved dramatically in recent years, Microsoft introduced new technologies across Microsoft's suite of security solutions to help defenders make the world a safer place. Additionally, the expansion of Security Copilot embedded within Intune, Purview and Entra will help IT administrators, compliance units and identity teams simplify complex scenarios.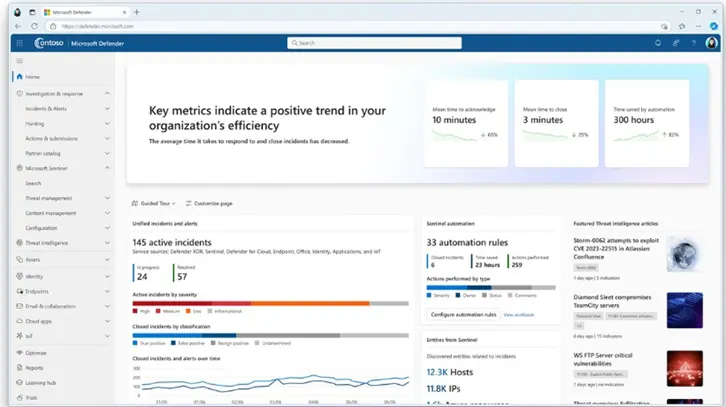 Azure Cosmos DB for MongoDB vCore
Azure Cosmos DB for MongoDB vCore is now generally available and offers a robust, seamlessly integrated, and fully managed database solution for MongoDB workloads. The solution provides a familiar architecture for developers, native integration with the Azure ecosystem at low costs, and advanced database querying abilities with full-text search for AI chatbots and other intelligent apps.
And what better way to start using Azure Cosmos DB for MongoDB vCore than for free? Microsoft has announced a brand-new free tier for vCore, offering a solution designed to provide developers opportunities to explore, innovate, and develop with 32GB of storage.
SharePoint Premium
There is an announcement around the introduction of SharePoint Premium, a new solution that leverages AI to transform content management and content experiences in Microsoft 365. SharePoint Premium is now in preview and will be generally available early next year.
New Features and Enhancements for Windows 365 and Azure Virtual Desktop
Windows App is now available via the Microsoft Store for Windows devices, the web, or TestFlight for Apple devices. This is now in public preview.
Azure Virtual Desktop for Azure Stack HCI has new updates, powered by Azure Stack HCI Fall 2023 release, that brings an integrated cloud-native deployment experience in Azure Portal.
Azure Virtual Desktop FSLogix enhancements are now generally available. These include settings from the Microsoft Intune Settings Catalog and the inclusion of the latest version of FSLogix in Azure Marketplace Windows multi-session images.
An Era of AI Innovation – A Focus Point at MS Ignite 2023
Microsoft Ignite 2023 placed a spotlight on the future of AI and its impact on customer success. WinWire, a premier award-winning Microsoft Solutions partner is at the forefront to leverage Microsoft's cutting-edge technologies and solutions designed to enhance and elevate the customer experience and setting a new standard in revolutionizing business operations with advanced AI solutions.
Contact us today to know how we are helping customers transform and innovate leveraging AI.