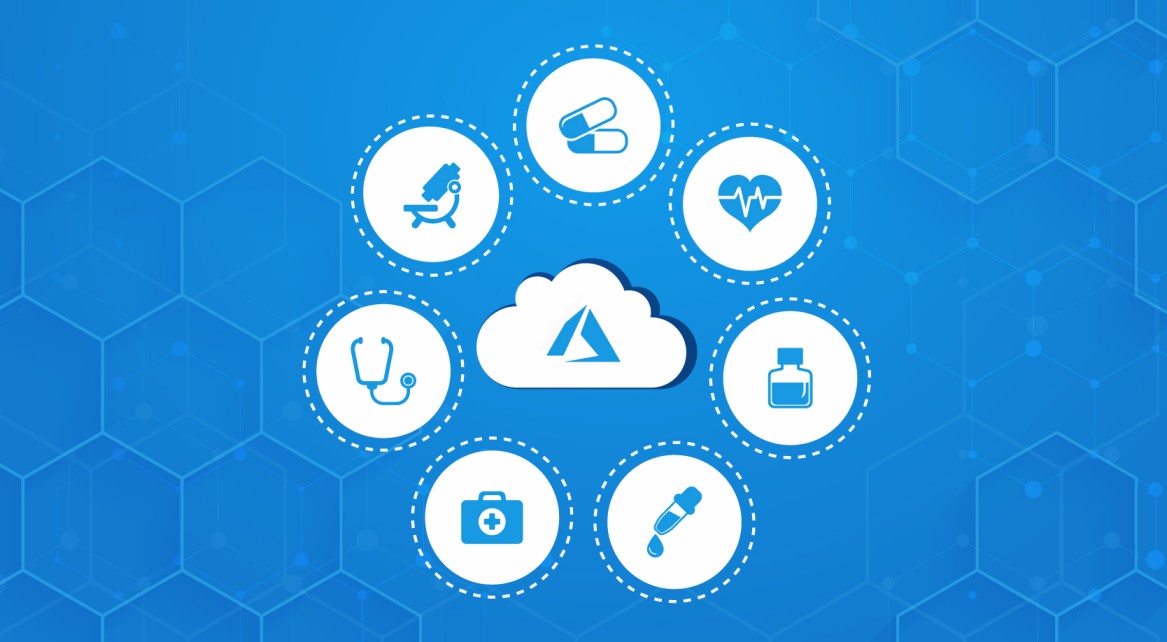 Globally, the COVID-19 pandemic has put the world's health care systems to test and brought forth the critical gaps. Even before the coronavirus pandemic hit the world, the health care industry had already been grappling with some serious data challenges.
But now, the healthcare industry is seemingly at the forefront of driving the revolution of digital transformation to build resilience for fighting this health crisis and beyond.
Microsoft believes it can help the world flatten the curve with its solution purpose-built for the medical field. I see it as a positive sign that a tech giant like Microsoft strongly acts on the core business challenge that's unique to every industry. It's to be appreciated that Microsoft has taken this initiative at a time when the entire world needs something groundbreaking to lean on in the health care space.
Recently at Microsoft Ignite 2020, Microsoft announced that its first industry-specific cloud, Microsoft Cloud for Healthcare would be generally available from the end of October this year.
What is Microsoft Cloud for Healthcare?
In every industry, we are experiencing a more pressing need for transformation than ever before. Microsoft Cloud for Healthcare provides trusted and integrated capabilities that deliver automation and efficiency on high value work flows as well as deep data analysis functionality for both structured and unstructured data, that enable healthcare organizations to turn insight into action.
This end-to-end, industry-specific cloud solution includes released and new healthcare capabilities that unlock the power of Microsoft Azure, Microsoft 365, Microsoft Dynamics 365, and Microsoft Power Platform.
WinWire builds upon, extends, and enables the value of the platform to address the most urgent challenges the healthcare industry is facing today.
It supports Fast Healthcare Interoperability Resources (FHIR), different data formats and Healthcare APIs, implementation services, and healthcare software-as-a-service offerings.
As stated earlier too, the data challenges that the health care industry is struggling with can be categorically resolved by an Azure FHIR service. This standards-based, compliant API for clinical health data empowers health organizations to ingest and persist data for the reconciliation of records from various systems and actionable analytics.
The First in a Family of Microsoft Industry Cloud Solution for Healthcare: A Game-Changer?
I believe this new product will be a game-changer in the healthcare space and has resulted due to efforts of Microsoft's team that partnered with many healthcare organizations over the years to reimagine a digital and healthier tomorrow. With this product roll-out, Microsoft strives to enable organizations to embark on the path to recovery and resilience in an ever-evolving and complex healthcare environment and adapt successfully to the disruption.
WinWire is delighted and proud to be part of the Microsoft Cloud for Healthcare preview program and is committed to empowering healthcare customers by leveraging Microsoft Cloud for healthcare.
The preview program is only available to a limited set of Microsoft partners who have expertise in the Healthcare vertical. The program gives partners access to Microsoft's healthcare cloud capabilities before it becomes available to the public.
I see this latest solution is in so many different ways Microsoft's response to Google Cloud Healthcare API. Microsoft Cloud for Healthcare will help healthcare customers and partners develop scalable modalities of care that will equip them with the right insights and tools for:
Enhanced patient engagement
Empower health team collaboration
Improve clinical and operational insights
Improved security and compliance
In response to the COVID-19 pandemic, WinWire has developed new strategies and solutions that empower healthcare customers to build resilience for the future. We launched a Healthcare Bot built leveraging the Microsoft bot framework. The solution leverages an AI-based chatbot to answer questions about COVID-19 through a natural conversation experience. We made Return to Workplace solution to support organizations to ensure employees' safety and wellness as they adapt to new ways of working amid the COVID-19 pandemic.
Healthcare More Accessible, Efficient, and Affordable
Cloud for Healthcare, to be made available from next month would include managed services that aim to support healthcare organizations in making more impactful decisions with agility and delivering better healthcare experiences than ever.
This solution combines the power of Microsoft Azure, Microsoft 365, Microsoft Dynamics 365, and Microsoft Power Platform that enables healthcare organizations to proactively engage with patients and equip caregivers with tools to streamline workflows and boost efficiency.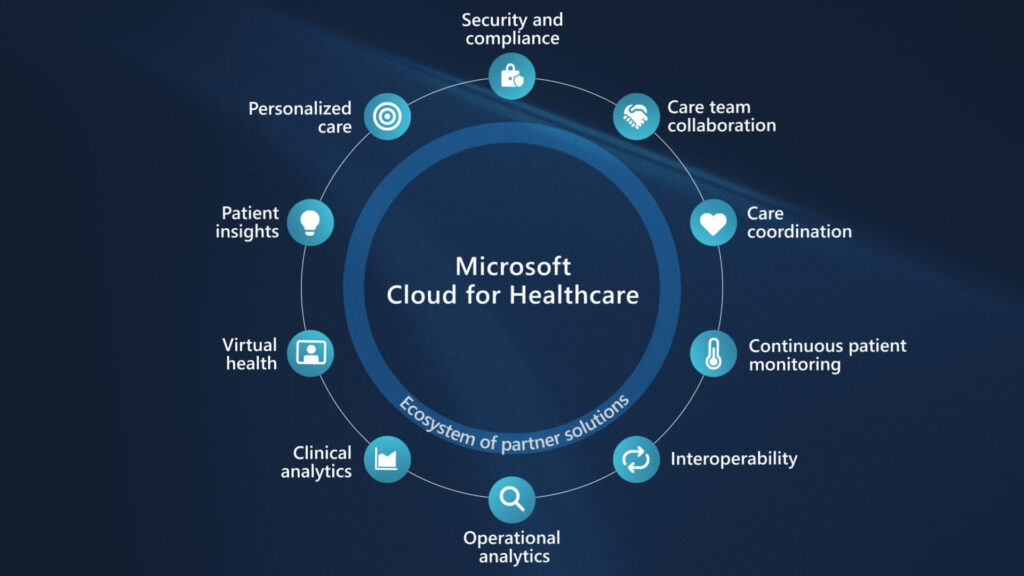 Source: Microsoft
Improved Patient Engagement
The COVID-19 pandemic has triggered the demand for digital health solutions and personalized omni-channel patient experiences exponentially. Patients now need digital tools that would give them access to virtual doctor visits through self-scheduling appointments and remote health monitoring, reminders, bill payments, while from the comfort of their homes across a range of devices.
Healthcare organizations across the world are seeking ways to maximize the value of healthcare system, where patients are actively involved in their own healthcare with powerful insights; clinicians have real-time access to patient's health data; and create a high-performing and sustainable healthcare system, powered by care agents, patient portals, or virtual health bots.
I believe a key facet of healthcare is aftercare. Clinicians need to be in regular touch with patients to monitor their recovery phase. But a lack of an efficient healthcare environment, the tools the medical teams most often rely on are limited to phone calls and emails. And emails are prone to security threats and breaches too.
Microsoft has also announced a Healthcare Bot Service to be available with Cloud for Healthcare. Such a service can eliminate the strain on emergency communication lines for healthcare while responding to common questions or concerns of patients.
Empower Health Team Collaboration
Cloud for Healthcare offers better connectedness for improved collaboration across providers, payors, pharma, and health tech organizations. The healthcare environment is complex. Hence, clinicians and other caregivers need access to tools that facilitate better collaboration.
This integrated solution enables quick collaboration among teams by offering them the right tools, applications, and settings, best suited for unique scenarios and empowering them to perform their jobs more effectively and efficiently. These healthcare organizations can conduct and collaborate on multi-disciplinary team meetings, discharge planning, nurse huddles, and lots more.
According to a recent McKinsey & Co. report, healthcare organizations reported 50 to 175 fold surge in telehealth patient volumes since the COVID-19 crisis hit the world. This establishes the tremendous potential for telehealth services to enhance care access and healthcare workflows efficiency.
Microsoft Cloud for Healthcare also includes tools for medical professionals to create referrals, find providers, and analyze physician spend, satisfaction levels, and other improved analytics.
How does Microsoft Cloud for Healthcare Ecosystem Work?
Microsoft Cloud for Healthcare has an extensive partner ecosystem that aims to create and connect patient and care team experiences across the cloud through the following ways:
Create: Use Microsoft Cloud for Healthcare to create new or update the existing SaaS or other applications at scale.
Extend: Integrate cloud capabilities and features within the partners' platforms.
Enhance: Create healthcare applications for healthcare providers, payors, or on different Microsoft platforms.
Connect: Use APIs and extensions to drive interoperability between this integrated solution and other partners' platforms.
Facilitate: Customize the solution to each customer's unique needs and systems for data adoption and use.
At WinWire, we're committed to empowering our healthcare customers, including top global health care and life sciences organizations, with Cloud for Healthcare to scale up their digital transformation path with robust care modalities while delivering great value at every step of the patient journey.
As a proud gold partner for Microsoft Azure Cloud Platform, WinWire has enabled several enterprises to make a smooth and swift cloud transition. The team develops your cloud roadmap that helps manage complex systems and applications within a single system of intelligence. From consulting services to implementation and support, we are with you at every step of your cloud lifecycle. Let's connect and discuss how Azure Healthcare APIs are transforming the healthcare industry.