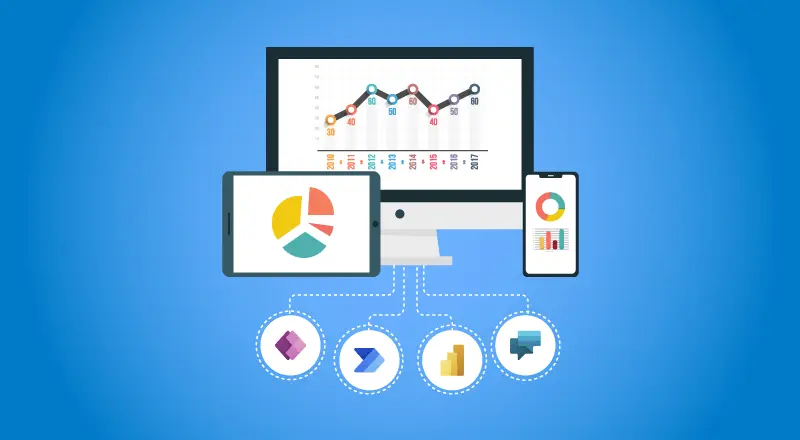 A few years ago how we used to work was very different than how we do now. Now work can easily happen anywhere anytime on our phones, tabs, and laptops on the go. The mobile revolution, together with nearly never-ending compute and data in the cloud, has revamped our professional experience.
People are making use of all kinds of devices to get their work done, yet a lot of the apps that we use haven't been mobilized as rapidly in business as they have in the consumer space.
What are the main causes of this business app innovation gap?
1) A Dearth of skilled mobile developers: Gartner has predicted that by the end of 2017, the market demand for mobile app development services will increase at least five times faster than internal IT organization capability to deliver them. There aren't many skilled developers to meet the demand for business app scenarios. (Source: Gartner).
2) Data proliferation: The prodigious amount of data spanning on-premise systems and beyond the firewall to SaaS clouds. With data stocked in many systems, it is extremely difficult to connect to and consume related data from within an app.
3) IT agility and app sharing: Typically, Mobile app distribution happens through app stores, or through mobile device management, which creates inherent friction in getting apps onto employee phones.
That's why Microsoft has tried to get users to "power their business with apps."
What is Microsoft Power Apps?
Microsoft Power Apps is an app for Windows 8 and desktops, or mobile devices and it is also only for Office 365 customers. It is a native app that users can install on their iOS, Android or Windows devices.
Under the covers, the PowerApps service operates on Azure and integrates with Azure Active Directory, Azure App Service, and Azure Media Services. The Microsoft Power Apps service connects seamlessly to Office 365 data via the Microsoft Graph application programming interface (API). It also can access data stored in third-party services via those companies' public APIs via connectors.
The objective of PowerApps is to take the friction out of the process of writing these apps. Once enabled, users can pull data from both cloud-based and on-premise data sources into their apps. PowerApps will allow users to connect to services like Office 365, Salesforce, Dynamics CRM, Dropbox, OneDrive and other on-premise database systems like SharePoint, SQL Server, Oracle, SAP and others.
Microsoft Power Apps – Business Benefits
To Connect, To Create, To Share

• Turn your data into apps
• Mobilize your systems
• Secure access everywhere
• Create without limits
• Work smarter with automation
• Share apps like documents
• It works on all devices
Power Apps – Tutorial
• Once you login for the first time, it will give you an option of an app or a logic flow: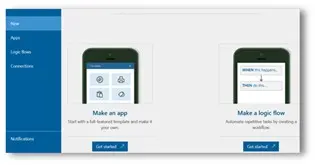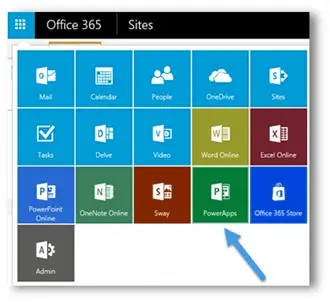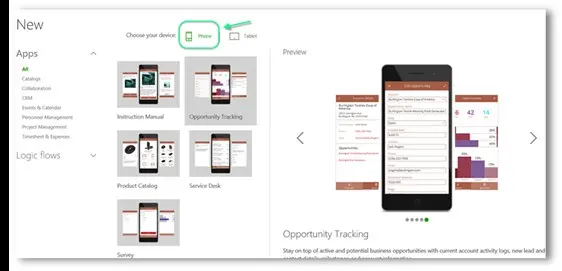 • Under "Make an app", once you click Get Started, it would show you a lot of example apps to try out.
• At the top, you can also choose to flip between a Phone OR a Tablet, and the app templates will appear different for each.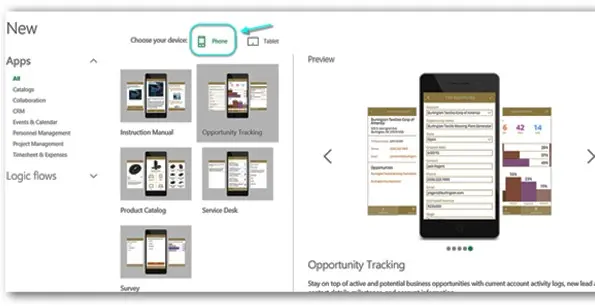 • When you click the Choose button at the bottom right, it opens up PowerApps on your computeror prompts you to install it.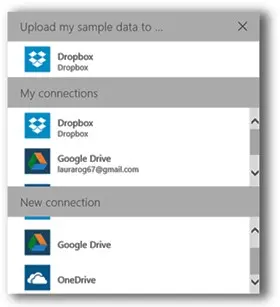 • In PowerApps, once you click Connections on the right side, it will allow you to create one or more connections to your data. You'll notice in the pricing plans that the number and type of connections will be different in different plans. For example, the enterprise level will even enable users to connect to on-premises data sources. The available connections you can create as of now are – Dropbox, Dynamics CRM Online, Google Drive, Microsoft Translator, Office 365 Outlook, Office 365 Users, OneDrive, Salesforce, SharePoint Online and Twitter.
If you wish to base your app on data you store in an Excel file you save in Dropbox, for example, PowerApps will seamlessly enable youto do that. With the help of this, a team could easily create a custom app to track its recruiting efforts or a sales team could reattach data from Salesforce and other tools to track its efforts.
Availability of Different Versions:

Users can download the freeversion of PowerApps, which would allowusers unlimited app creation and use with two cloud data sources per user. While, the Standard version allows unlimited app creation and use, with cloud data sources, including Office 365, Dynamics CRM, Dropbox, Salesforce. Moreover, an Enterprise version is also availablefor usewith unlimited app creation, unlimited cloud-data sources and on-premises data sources, including SQL and Dynamics.