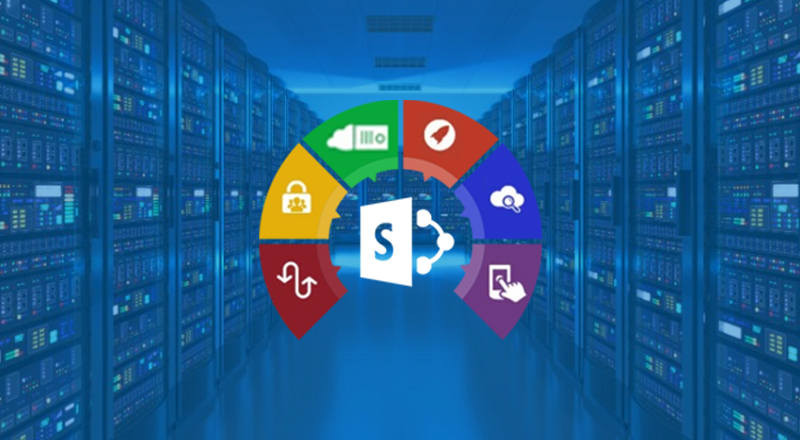 Microsoft has announced the general availability of SharePoint Server 2016, which provides SharePoint customers a foundation for modern, intelligent intranets and content collaboration. SharePoint Server 2016 delivers foundational improvements that enhance the quality of your on-premises SharePoint solutions and enable users to take advantage of innovations that the company introduces to Office 365 and SharePoint Server moving forward.
SharePoint Server 2016 is one of the most reliable, scalable, secure and high-performance server release so far. With built-in Hybrid Cloud capabilities, it can be termed as the best choice for organizations who are interested in taking advantage of the latest innovations in Microsoft Cloud offerings as it enables enterprises to maintain critical content or custom applications on-premises.
SharePoint Server 2016 helps organizations to have breakthrough performance and resiliency as well as helps in quickly building solutions and extend data across on-premises and Office 365. Moreover, it also gives them immense confidence that their data will remain safe and secure.
New and Exciting SharePoint Server 2016 Features
SharePoint Server 2016 in a way mostly improves upon its predecessor and it has a few notable features.
Some significant features that have caught the attention of many are:
• Better IT—The SharePoint Server 2016 caters to all whether you're looking to deploy on-premises, in the cloud or in a hybrid scenario due to its unprecedented deployment flexibility.
• SharePoint Cloud Hybrid Search: Unlike Previous releases of SharePoint, with SharePoint Cloud Hybrid Search one can work with your SharePoint Server 2013 / 2016 deployment and Office 365's SharePoint Online. This enables customers who are using both SharePoint Server 2013 and Office 365 the option to retrieve a unified search result through a combined search index located in Office 365.
• Maximized data security: Additionally, SharePoint Server 2016 provides enhanced data security and compliance by offering simplified configuration and administration for regulatory policies. SharePoint Server 2016 equips enterprises to stay in a better position to control access to the company- and customer-sensitive data by making authorization and audit management more flexible and seamless.
• Steady and consistent development: SharePoint Server 2016 helps in optimizing developer productivity with a unified development experience across server and cloud with modern APIs. It also enables a broad ecosystem through a standardized set of APIs and experiences that span on-premises and the cloud.
• Enhanced user productivity: Along with the touch-based experiences across multiple devices as well as screen sizes, SharePoint Server 2016 provides improved mobile access to content, people, and applications.
• Refined file storage and simple document collaboration: SharePoint Server 2016 also provides simpler and easier to use file storage and document collaboration. And, with seamless Hybrid integration to Office 365, users of SharePoint Server can now take advantage of new and improving productivity experiences like Delve, SharePoint Online and OneDrive for Business.
Be Ahead of the Game:

Due to rapidly changing business and technology environment, responding quickly to constantly changing business needs or to user demands can be utterly challenging. Whether you choose to deploy SharePoint Online with Office 365 or SharePoint Server on-premises, you need software that helps you more easily take advantage of new technology or services quickly.
The SharePoint Server 2016 enables on-premises customers to take advantage of innovations more quickly whether SharePoint is deployed on-premises, in the cloud or somewhere in between. SharePoint Server 2016, has paid close attention to trends in content management, team collaboration, user experiences across devices, and how the cloud can be blended into existing on-premises scenarios in new and compelling ways.
Migrating to SharePoint 2016
The migration process to SharePoint Server 2016 will be a bit involved, depending upon from where you are starting. If you are ahead of the game, relatively speaking, and have already moved your on-premises SharePoint deployment up to 2013, then moving to 2016 will absolutely not be a big deal. You can do an in-place upgrade of your 2013 deployment to step up, keeping in mind you will need to have all sites and libraries that are on 2013 but using the 2010 "skin" over to the standard 2013 "skin" before completing the upgrade.
However, if you are still on SharePoint 2010, then you will have to lift and shift your content into a new SharePoint Server 2016 deployment. You will probably want to engage some specialists to help with this migration unless your intention is just to move up to Office 365, in which case Microsoft has a bunch of tools to do the heavy lifting for you.