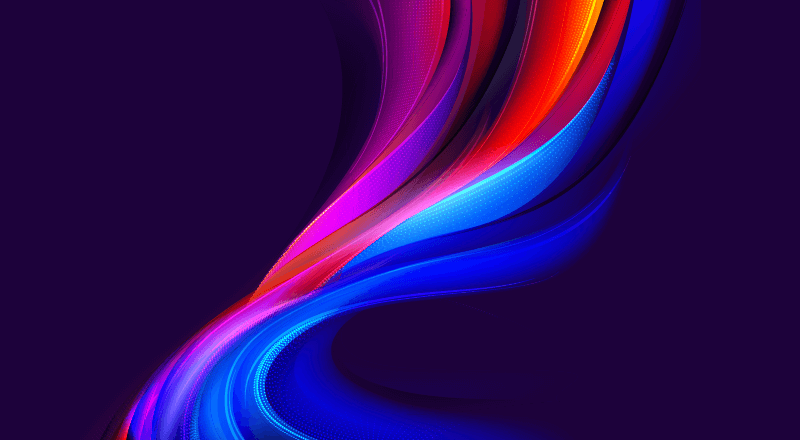 Microsoft kicked off its annual global partner conference, Microsoft Inspire, via an all-digital experience on July 19-20. Inspire unites partners in new and exciting ways and encompasses a broader community, allowing partners to develop increasingly valuable business relations.
Along with industry leaders and partners globally, this is a unique platform to strengthen the partnership and learn from experts.
The focus of this year's conference was around Microsoft Cloud Services and Partner Programs. Below are important Microsoft Inspire 2022 announcements that we are excited about.
Microsoft Cloud for Sovereignty
Microsoft Cloud for Sovereignty is a new solution that will enable public sector customers to build and digitally transform workloads in the Microsoft Cloud while meeting compliance, security, and policy needs.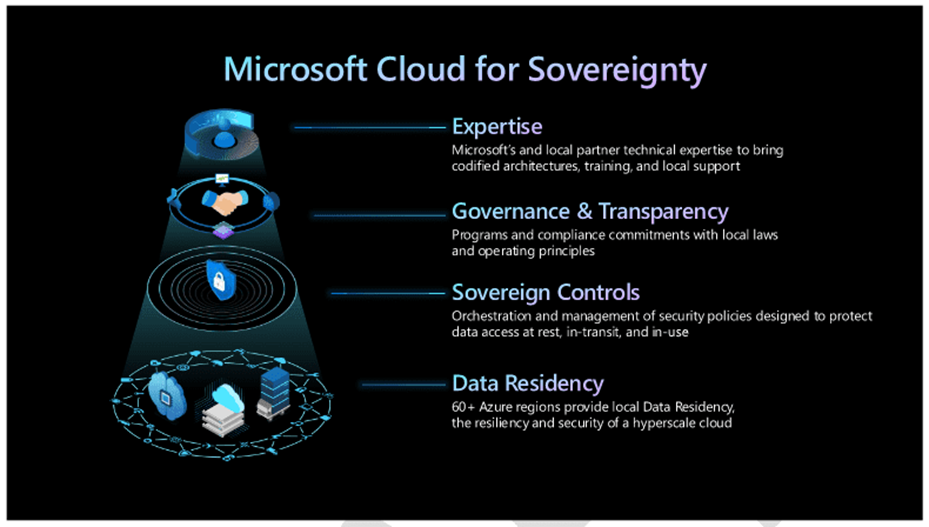 Presently, public sector customers can harness the full power of Microsoft Cloud, including broad platform capabilities, resiliency, agility, and security. With the addition of Microsoft Cloud for Sovereignty, they will have greater control over their data and increased transparency of the operational and governance processes.
Azure Space Partner Community
The next paradigm for cloud computing will bring together the possibilities of space with the power of the cloud. Organizations across industries are utilizing satellites and other space technologies to bring connectivity anywhere and unlock new insights via the space data.
With the announcement of Azure Space Partner Community, it will enable partners to deliver the most comprehensive and innovative offerings for joint customers and build the future of space computing.
More Azure capabilities announced include:
Azure Confidential Computing – Helps enterprises handle sensitive data in the cloud.
Azure Center for SAP Solutions – Deploy and manage your SAP applications.
Azure Arc – Build and deploy apps with Azure Services.
Microsoft Intelligent Data Platform
Recently introduced Microsoft Intelligent Data Platform at the annual Build developer conference in May 2022. Microsoft Intelligent Data Platform gets highlighted in Microsoft Inspire and how it can enable customers to consolidate its existing database, analytics, and governance services.
The data platform fully integrates its database, analytics, and governance offerings and encompasses everything already available in the Azure Data space to the Synapse Analytics products, Power BI, and the newly rebranded Purview data governance service.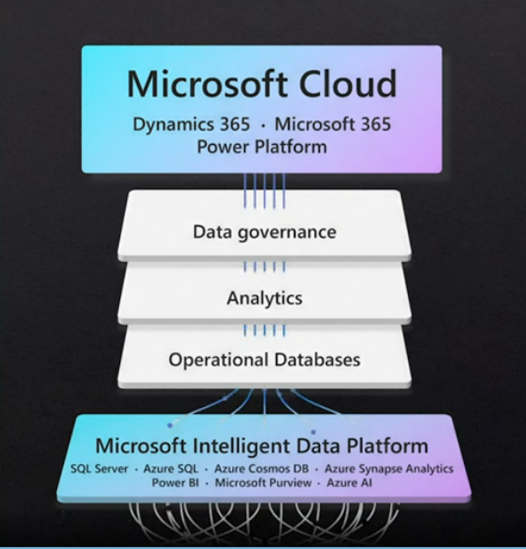 It will enable customers to add layers of intelligence to their applications, unlock fast and predictive insights, and govern their data—wherever it resides!
Microsoft Security
Microsoft points the state of having numerous security solutions in place over a single network — is high on their list. They highlighted the recent announcements of its Microsoft Entra and Microsoft Purview offerings as partner opportunities to drive enterprise security while reducing complexity for customers.
Entra has the capabilities of Microsoft Azure AD, Cloud Infrastructure Entitlement Management (CIEM), and Decentralized Identity in one package. At the same time, Purview centralizes on-premise and device data protection through a unified approach.
Innovations with Microsoft Teams – New Collaboration Features
Microsoft plans to deliver new capabilities in Microsoft 365 and Microsoft Teams that let people contribute whenever and wherever they are working. The below updates will help to make hybrid work, modernize communications, enable frontline workers, and delight users with rich and collaborative apps.
Introduction of Excel Live
Microsoft has introduced Excel Live. The feature allows users of the excel spreadsheets application to collaborate on workbooks in real-time in a Teams meeting and speed up collaboration around spreadsheets and data. It has been built on Live Share; a feature introduced earlier this year at Build.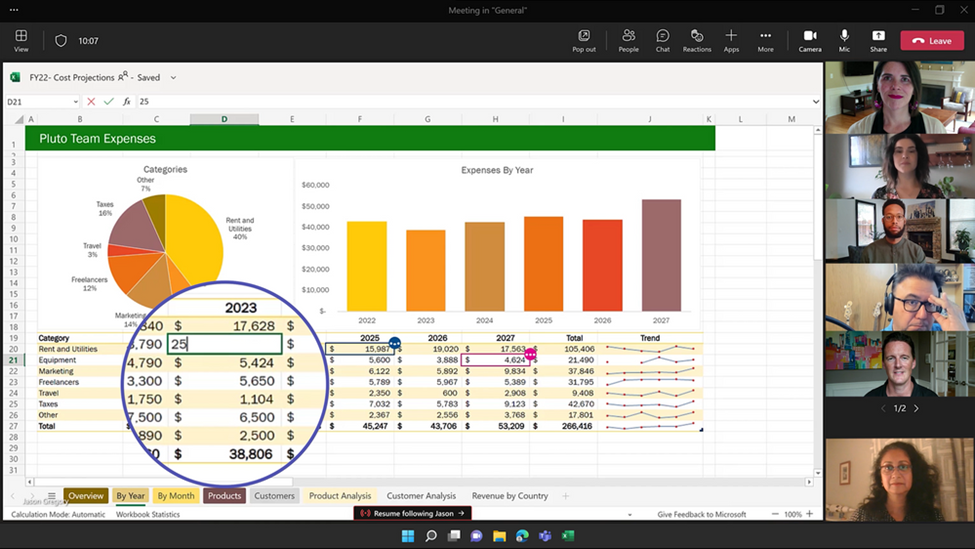 Excel Live leverages Live Share so you can edit excel workbooks simultaneously with other people on a call. The Teams SDK has also been updated so developers can build collaborative experiences for Live Share.
Teams Connect Shared Channels
Microsoft has made the Teams Connect Shared Channels feature generally available. The feature enables Teams users to collaborate with people within and outside your organization in one shared space where everyone can work, chat, meet, share, co-author files, and develop apps together.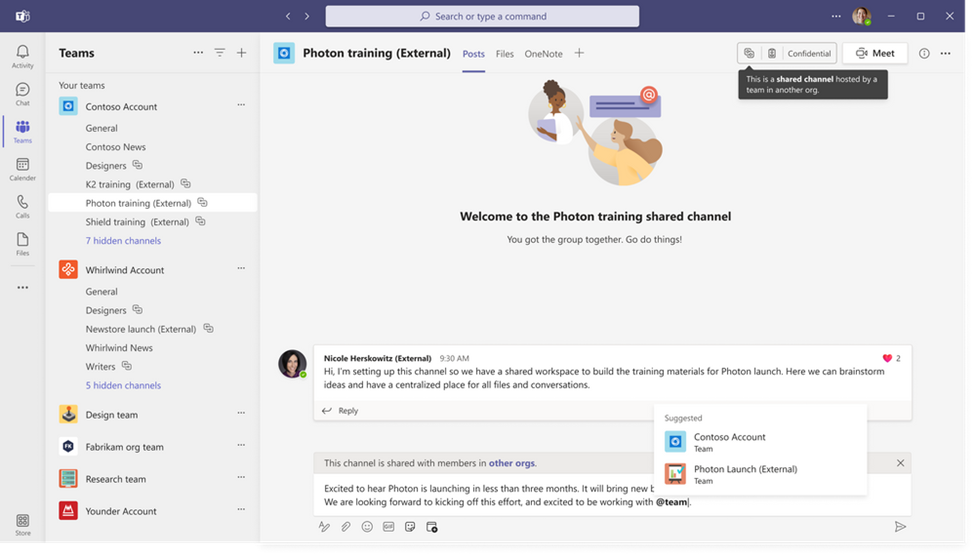 With shared channel organizations can:
Provide a gateway for both parties to share files, hold conversations, meet, and review documents in a secure way, without switching tenants.
Retain your flow of work, as external shared channels show up alongside channels from your organization.
Attain complete access to the full suite of team's collaboration capabilities with external partners, similarly how you do with your colleagues within the organization.
Whether you're working with a vendor or partnering with an agency, shared channels can help organizations make collaboration seamless and work as an extended team.
Video Clip and Collaborative Annotations
Video clip and collaborative annotations feature is now generally available. The feature allows users to record, send, and view short videos through chats. Users can capture your video and then deliver your message at the tap of a button.
The collaborative annotations feature will help the users to markup content during meetings. people can draw, type, and react to shared content in real-time using tools from the Microsoft Whiteboard.
Revamped Microsoft Teams Webinar Experience
Users will be able to drive more interactive and immersive experiences with Microsoft Teams Webinars. It will start with a new structure and expanded options to customize registration details and settings specific to each event, as every event is unique. The organizer can come with enhanced presenter bios, making the presenter stand out with their headshot, company name, job title, LinkedIn profile, and more. It will allow theming, where you can showcase your brand and align the theme of your event with a banner, logo, and relevant color scheme that show up on the registration page, webinar communications, and more.
These capabilities will be available in public preview from next month.
Microsoft Viva Goals and Viva Engage
A new feature for the Microsoft Viva employee experience platform will become generally available from Aug 1, 2022. Viva Goals is a goal setting and management solution that aligns teams to your organization's strategic priorities to drive results.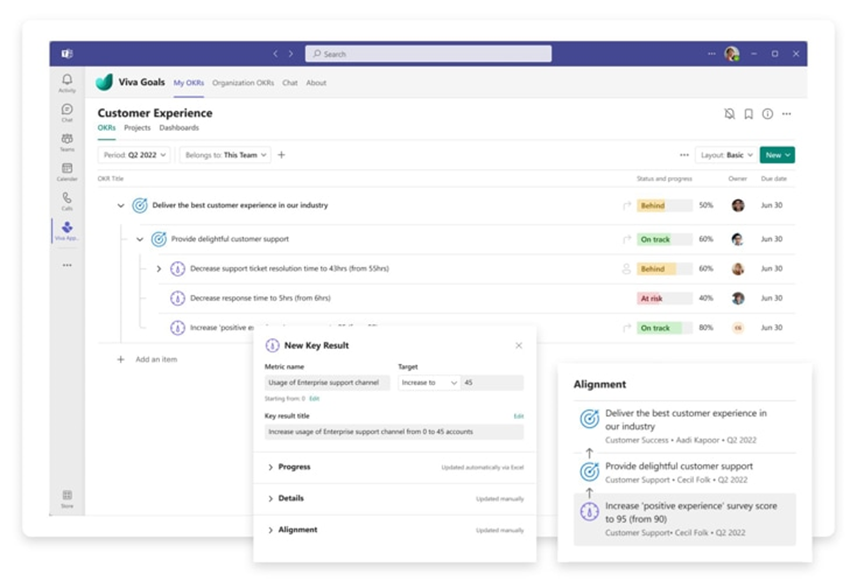 Viva is expected to be the new growth engine to meet the demands of hybrid work and is touted to drive employee performance. Viva Goals applies the power of the objectives and key results (OKR) framework. Because Viva Goals seamlessly integrates into the employee experience, empowering teams to be their best from anywhere.
Microsoft also announced Viva Engage, the newest app in Microsoft Viva, designed to help people and teams to be their best, have a voice, and feel included in workplace. Viva Engage will give leaders a new way to shape culture at their organizations by unlocking communication and engagement opportunities for everyone.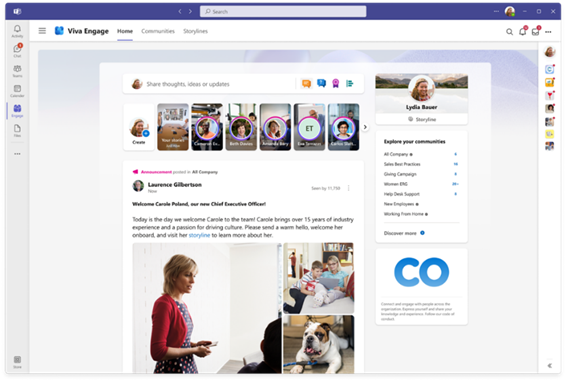 Digital Contact Centre Platform
Microsoft unveils the Microsoft Digital Contact Center Platform offering, which combines technology from Teams, Azure, and other portfolio products with their newly acquired voice-to-text company, Nuance. The platform will bring in artificial intelligence (AI) to power self-service and live customer engagements, collaborative experiences with live and virtual agents, business process automation, fraud prevention, and advanced telephony.
The platform anticipates customer requests and predicts intent. Customers are protected with integrated biometric identification, authentication, and fraud prevention. Users also receive customer journey analytics to improve experiences.
Connect with WinWire
Today's announcements represent Microsoft's continued investment to support its partners grow their business, better serve customers, and align more closely with the cloud transformation we're seeing across industries.
To maximize the benefits of the newest technology innovations announced at Microsoft Inspire 2022, requires the help of experts. WinWire is a Data-driven Digital Engineering company that enables enterprises and software companies across Healthcare, Retail, Hi-Tech, and Manufacturing to navigate their digital transformation journey.
Talk to us today to learn how we can help you!