Service
API Integration Services
Technology
Azure API Services
Customer
The customer is a leading healthcare medication and feed producer that develops animal health products and innovative solutions to protect and enhance animal health.
Business Challenge
The company works to empower veterinarians, food producers, and all those concerned with animal health. With a large-scale digital transformation as its key priority, it can be challenging to know where to start.
Key challenges
Identifying the APIs coming from different multiple sources
Improve operational efficiency and agility
Manage and maintain APIs at one place as it requires technical support in-terms of consuming the APIs
Keeping track of authorized consumers who are consuming the APIs
Permission access was highly complex and cumbersome
Wanted a strong connect with the business to the apps, customer, and developer
Improve employee productivity through a better IT experience
WinWire Solution
WinWire's Enterprise API Management solution accelerates digital transformation by providing the capabilities to bring systems together, secure these integrations, deliver customer experiences, and capitalize on new opportunities.
WinWire developed Enterprise API Management in Azure to centralize repository of all enterprise APIs, which helps consumers consume the APIs with high-end security standards.
Designed and developed a comprehensive Enterprise API Management solution leveraging Azure Services
Defined steps and standards for the API management to help future onboarding of new APIs
Defined steps and standards for the API management to help future onboarding of new APIs
Provided additional security based on the category of the APIs (red / yellow / green)
APIs were categorized based on the sensitivity of data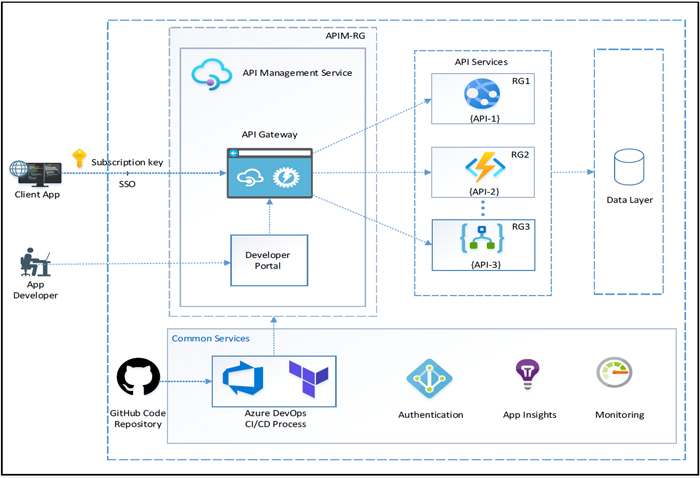 Business Value
Improved operational efficiency and ROI
Enabled seamless consumption of APIs by the business processes
Ensured a multi-level robust secure platform
Improved employee productivity