Businesses often find it tedious to manually discover and analyze their applications for seamless Cloud migration. Also, it is time-consuming to manually migrate mission-critical applications to their preferred public or private Cloud.
Furthermore, deciding on the in-house IT infrastructure to replace, upgrade or eliminate for migration poses another roadblock. Educating business stakeholders on Cloud migration is also perceived as one of the big challenges.
At WinWire, we have been working with customers and see Migration-as-a-Service (MaaS) as a rational solution to this challenge. It's critical to the success of any organization today as MaaS makes cloud migration automated, easy and effortless. It cuts down on the risk factor by laying out a well-defined online automated process that needs no manual intervention. It also helps the user arrest downtime. Using live migration, it also helps the user control availability needs.
MaaS helps the organizations devise a well-formulated migration strategy to optimize workloads across the company. It also helps the business put in place a standardized migration process to address all IT requirements across the organization.
It's interesting to note that a business-first, agile Cloud Migration factory approach powers digital success at scale. Such an approach enhances operational agility and cost efficiencies and broadens the scope of innovation. This approach to cloud migration can deliver the greatest benefits with the least risk and enable clients to accomplish demonstrable business outcomes.
Migration-as-a-Service: Methodology
It's a no-brainer that a crystal-clear methodology is an essential part of successful data migration. The proven data migration methodology is imperative to scope, plan, and document your migration choices and tasks.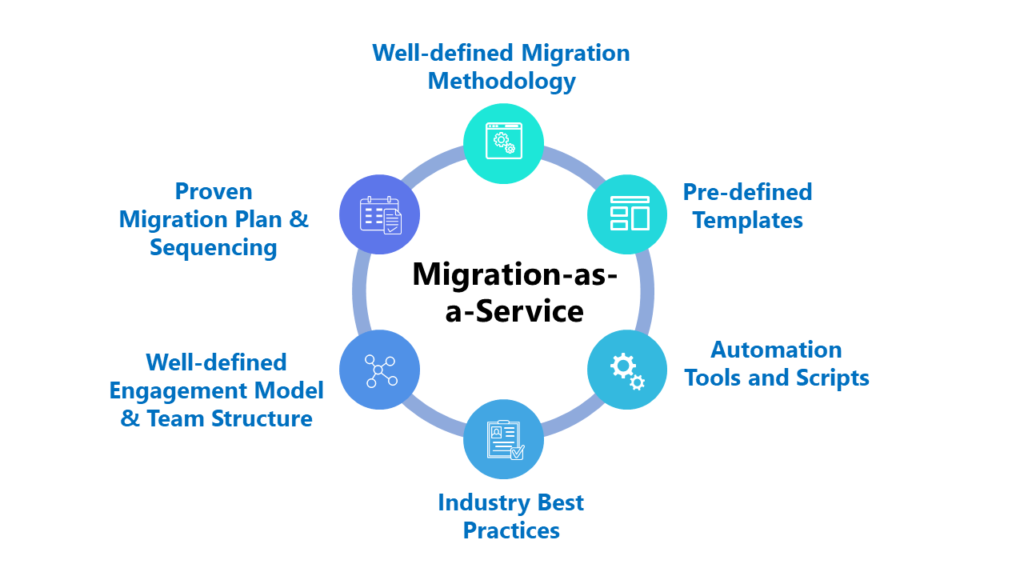 Step 1: Workload Analysis: Usually, it all starts with the workload analysis that assesses workload characteristics, inventory analysis, stakeholder requirements, objectives, application type, usability, and SLA adherence compliance.
Step 2: Pre-defined Templates: Each migration has its own predefined template in which source data is uploaded. These templates empower a business to transfer their legacy data. Automatic mapping is then executed in the source.
Step 3: Automation Tools and Scripts: First up, these automation tools and scripts won't help you get away from your most hated tasks but provide you with a solid start. These tools help in comparing source and destination data. These scripts also detect and adapt to structural changes.
Step 4: Industry Best Practices: It's recommended to follow the industry best practices while migrating your on-premise workloads to cloud infrastructure. Some of the best practices are listed below.
Establish data standards and business rules for the future.
Clearly define data governance roles.
Evaluate the quality of data
Collect and collate risk migration pre-requisites
Identify and evaluate apt tools
Put a risk management system
Test, analyze and validate
Step 5: Well-defined Engagement Model & Team Structure: We can't stress enough how important it is to clearly establish an engagement model and team structure. The support of senior business leaders will enable the seamless execution of the data migration project while ensuring a healthy team structure and availability of all the necessary resources to the team members.
Step 6: Proven Migration Plan and Sequencing: Data migration is a complex process. It calls for a prescriptive planning approach to enable migration sequencing in a large-scale public cloud migration project. In such a scenario, there is a need to identify the sequencing and scheduling aspects of the migration.
Migration as a Service (MaaS) Scenarios
1. Infrastructure Migration to cloud:
Migrate complex infrastructure, architecture, and databases to the cloud
Audit and evaluate your current infrastructure and make migration recommendations based on your target parameters
Automate and deploy your infrastructure to the cloud
Automated tools and scripts, well-defined methodology, Reduced downtime to the business
Pre-defined templates, proven engagement model, standardized communication strategies
View our webinar on Migration-as-a-service – Infrastructure to learn how to make a smooth and swift transition to cloud for accelerated innovation with Azure cloud services.
2. Content & document migration to the cloud
Migrate legacy data and users from legacy platforms like Lotus Notes, eRoom, FileNet, Dropbox, box, File shares, etc
Extract all content and metadata in scope for migration to Cloud, On-Premises or Hybrid Cloud systems
Manage the requirements around acquisitions, regulatory legislation, and information governance
Migrate content from file systems, NetApp Filers, SAP Archives, Google Drive, CMS
View our webinar on Migration-as-a-Service – Content Management System to learn how MaaS enables enterprises to smooth transition to Office 365 and reduce risks of moving to the cloud.
3. Legacy application modernization to cloud: Many IT organizations are grappling with the long-time windows and vendor lock-ins on application modernization projects.
Complete application health assessment based on short and longterm business value
Migration of apps to cost-effective and more efficient business application platforms
Refactoring the apps' functionality to easy maintenance and scalability
How Migration-as-a-Service can help you?
We have helped several customers leverage Migration-as-a-Service and I recommend it as it will help you prevent rebuilding server workloads and minimize risks besides enabling you to cut on the downtime. It's a repeatable process for the whole migration, right from inventory assessment to migration and reporting. Our migration experts will help your business achieve all the benefits of the cloud, including infinite scalability, high availability and automation with virtually no downtime during the transition.